Princess Of Africa Yvonne Chaka Chaka Visits Adama On IPPF Showcase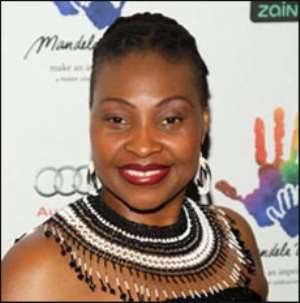 Yvonne Chaka Chaka
South African Icon, Musician and humanitarian, Yvonne Chaka Chaka visited International Planned Parenthood Federation (IPPF) projects in Adama, Ethiopia on Tuesday to find out first-hand how community-based initiatives can save lives.
During her visit to three separate sites she met with staff, young people, sex workers and women all of whom access IPPF Member Association's, Family Guidance Association of Ethiopia (FGAE) health services.
The trip was organized to coincide with the 3rd International Family Planning conference taking place in Addis Ababa this week.
In Adama, Yvonne met with nurses and clinicians to discuss how the model clinic, one of eight run by FGAE, offered a range of integrated sexual and reproductive health services, from on-site HIV testing with its own laboratory services, family planning options and maternal care. Whilst visiting, Yvonne discussed the range of contraception available for families including methods popular in that community. She also met with a young mother who had just half an hour earlier given birth to a son.
The second visit was to a specialist project for sex workers and their clients as well as for local people, providing services to more than 5000 individuals. The project offers safe spaces for many young girls who are sex workers or have recently left sex work behind and are now being empowered with a mixture of support including vocational training and counselling all of which helps them build social skills, confidence and resilience. Through sexual and reproductive health services they also had access to condoms and birth control commodities.
Yvonne's final visit was to a youth centre where the young people met with her to discuss issues they face and why they felt it was important to have services tailored to their needs.
The young people greeted Yvonne with her major hit song Motherland and they talked of how her role in raising humanitarian issues meant to them. Some of the young people performed dances as part of their musical and dance training. Young people talked about their disabilities and about stigma urging that more people should understand that there should be no barriers in society for young people. Yvonne finished with a song and performed traditional Ethiopian dances with a group of young dancers and singers from the youth centre.
Yvonne Chaka Chaka was asked to report back on her day. She said: "I was moved and so interested to see how integrated the services were and how deep the projects go into the community. My belief has taught me that interventions need to be from the ground up, where local people are coming up with their own tailored solutions. When I visited the clinic I was really delighted to see a one-stop shop where women can access a range of services in one place. I really liked the fact that the IPPF ethic is to offer services to all and not to turn anyone away.
"What was shocking though was the age of some of the sex workers - I didn't expect to see girls so young in this situation. They after all, were not in the trade because of choice but because of circumstances out of their control which meant that was what they had to do at the time. It's a vicious cycle but one that can be broken. I was surprised by how confident these girls were and they didn't hold anything back when we met with them privately.
Just seeing that and hearing from them how their lives had changed significantly for the better by learning new skills, believing in themselves, being protected and educated to do something to get themselves out of a negative situation was amazing. There was a strong inclusive approach to everything, and the staff and everyone involved were not judgemental and very supportive.
"The young people were something else. They were hard to leave behind as they were so enthusiastic and when I asked them to tell me what barriers they had faced in the past, it was evident that these were confident young people who will build big futures. Many of them were peer educators, volunteering their time to offer counselling, support and advice through the hotlines and those that came through the doors.
Young people are the future; they are the ones' who will change the world for the better if we give them the time, support and belief that they have a stake. Everybody needs to tackle stigma, be inclusive to support those disabled or living with HIV and offer strong outreach posts even in remote areas so everyone can access integrated services regardless and without prejudice".
For more information about her visit and photos contact Tia Jeewa [email protected]
or phone +447891167542