Chief Supports Wiamoase Presby Church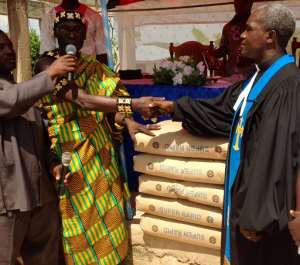 The Dwantoahene of the Wiamoase Traditional Area, Nana Oppong Ababio II, has donated 40 bags of cement and a cash sum of GH¢500 towards the construction of the Wiamoase Presbyterian Church.
His gesture follows his realisation that the traditional authorities and religious bodies can effectively co-exist to ensure the socio-economic development of the people, and improve their lives.
He said there was no need for the occasional conflicts and clash of ideas between the churches and traditional authorities, which, he said, does not augur well for the development of society.
According to him, churches and religious institutions were part and parcel of any society, stressing that there was the need for constant collaboration to ensure, not only the spiritual needs of its congregation, but also the material requirements that make life comfortable and worth living.
Nana Ababio II, who is also a staff of the Achimota School in Accra, said the gesture was part of his personal contribution towards the development of the church.
He noted that the Wiamoase community was bedevilled with lots of development challenges, including lack of proper roads, schools and health infrastructure, and therefore, made a passionate appeal to the government, through the media, to come to the aid of the community.
Rev. Alexander Ofori, Head Pastor of the Wiamoase Presby Church, commended the chief for the kind gesture, stressing that it would go a long way to help in the construction of the church building.