Revered Osei Kofi shed tears at public forum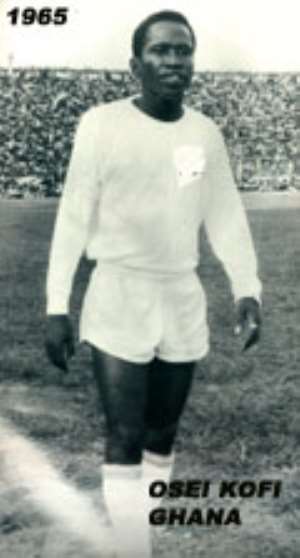 Reverend Osei Kofi, a former star of the Senior National Team on Tuesday openly shed uncontrolled tears at a public forum in Tamale in what was seen as protest to the "undeserved treatment" meted out to retired footballers in the country.
The former player turned reverend minister was called to deliver a speech on the way forward for Ghana soccer and after acknowledging the dignitaries; he covered his face with his left hand weeping and said, "I will beg the chairman to allow me to speak later" and put the microphone down and wept openly.
The forum was meant to solicit support and gather concerns and suggestions as well as grievances as to how Ghana football could be revamped to gain its past glory on the occasion of the 100 years of Ghana football.
The Rev. Kofi from then mounted the podium and resumed his seat while continuing with his weeping for about ten minutes while the participants particularly some retired footballers including Mohammed Choo and Kasim Abdallah, both former players of RTU wore gloomy faces in sympathy with their colleague.
He however, later managed to address the participants and explained that an earlier retired football, Mr Karim Starboy who addressed the forum and lamented the ill treatment the past government gave retired footballers greatly touched him.
Revered Osei Kofi who is the National Coordinator for National Games said when in 1969 he refused an offer of 30,000 Pounds Sterling from a British team and sacrificed to play for his country he now finds himself almost useless and it was an unfortunate situation that he could not easily forget.
He recounted another instance when Ghana was playing against Mali at the Accra Sports stadium and when he got to the gate, he was made to pay 10,000 cedis before he was allowed to enter, adding that such attitude was killing the spirit of the retired footballers.
The National Coordinator said that there was the need for the country to endeavour to honour its past heroes saying, "A country that forgets to honour its past heroes face a bleak future and development will elude its leaders".
The Reverend Minister described the current management of the GFA as Marketing Managers and not football administrators since there was no single football player with football expertise among them who can help carry Ghana football forward hence the drawback in the performance of football in the country.
He said competent professionals managed all institutions like the GJA, the Ghana BAR Association and others but in the case of football, Lawyers and Journalist are called upon to take positions, which some of them cannot perform while ignoring the retired footballers.
Rev. Osei Kofi commended the government for appointing him as the Coordinator for national games and said he would use his rich experience to ensure that Ghana football is placed where it truly belongs in Africa football.