Husbands Must Examine Breast Of Their Wives -Prez Mahama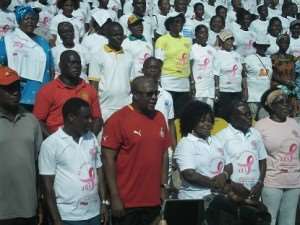 President John Dramani Mahama on Saturday mounted the platform of breast cancer awareness and told husbands to show keen interest in the health of their wives, by periodically examining their breasts.
The President advised husbands that if any lump is detected they should let their wives seek early medical care, since the lump could be a sign of breast cancer.
This, he noted, is one of the roles expected from husbands, as the nation strives to fight breast and other cancers, which have become a problem to the health of the citizenry.
"Breast cancer is curable, but breast cancer is survivable if it is discovered early. If you discover it early, your chances of surviving are higher. If it is discovered late, survival rates are lower. And so what do you have to do?
'You have to screen your breast at any opportunity, at least once a year. But apart from going to a health facility to screen your breast, you can examine it yourself. Breast examination is very important and husbands have a role to play here. They must examine the breasts of their wives," noted the President.
Mr. Mahama made this observation when he joined thousands of people from all walks of life, including those from corporate bodies and civil organizations to march through the streets of Accra, in order to raise awareness about breast cancer disease.
The exercise was under the theme: "Join the fight – together we can make an impact", and it was initiated by Breast Care International.
The event also saw some foreign participation from journalists, medical practitioners and researchers who joined their local counterparts in a show of solidarity to "Walk for the Cure".
It was the third time President Mahama had participated in the BCI Walk for the Cure, with the first and second taking place in Kumasi.
http://thechronicle.com.gh/wp-content/uploads/2013/10/231.jpg
Nananom joins the fight against breast cancer at the Accra Sports Stadium
 
Victory
According to him, the inception of the event has really had an impact, especially on government policies, aside raising awareness to get more women to examine their breasts at health facilities.
"All these walks that we have done over the last three years have had an effect. One of the effects is that it made government recognise the need to put breast cancer as one of the diseases on the National Health Insurance Scheme. That was a victory for us in terms of advocacy," he explained.
To ensure nationwide progress on the issue, the President stressed the need to train all public health workers, including those managing CHIP compounds, "to be able to recognise the dangers of breast cancer when they see it."
http://thechronicle.com.gh/wp-content/uploads/2013/10/320.jpg
The breast cancer campaigners displaying some placards to the public
 
Cancer registry
That notwithstanding, President Mahama promised to take up the establishment of a National Cancer Registry as requested by Dr. Opoku Adusei, President of the Ghana Medical Association, since it would provide a data to help deal with cancer issues in the country.
"If you ask us today, what is the statistics of breast cancer or what is the cause of breast cancer, it will be very difficult to tell you. It is important to gather the statistics because it will help us in the fight against breast cancer," he noted.
Cervical cancer
Discussing the issue of cervical cancer, President Mahama said his government was piloting a vaccination exercise where young adolescents would be vaccinated against Human Papiloma Virus (HPV), the causal agent of cervical cancer.
"The thing about cervical cancer is that it has a vaccine and we can prevent it. So it is easier to deal with than breast cancer. If this pilot vaccination runs successfully, we will expand it so that we can protect our women from cervical cancer," said President Mahama.
http://thechronicle.com.gh/wp-content/uploads/2013/10/46.jpg
The physically challenged also joined the walk to raise awareness about breast cancer
 
Risk
Commenting on the walk, President of BCI, Dr. Beatrice Wiafe Addai said the event was very important in raising awareness about breast cancer, since "every woman is at risk."
She encouraged women not to be afraid of the disease but rather seek early medical care when detected, since it is non communicable and curable.
http://thechronicle.com.gh/wp-content/uploads/2013/10/54.jpg
 
 
 
 
 
 
 
 
 
 
 
 
The breast cancer campaigners about to enter the Accra Sports Stadium
She pleaded with men to stay with their wives when they have been diagnosed with breast cancer, noting "research has shown that women whose husbands stay by their wives make them survive longer that those who are abandoned."
Janet Ndolovu, South Africa High Commissioner to Ghana, on her part, said "Africa must unite in action and fight to defeat cancer, just like we did to tuberculosis, HIV/AIDS and other diseases."
Key sponsors of the event were UT Bank, First Allied Savings & Loans, and in their solidarity messages also urged the country to work together to fight the disease.