Israel Shares Experience On Climate Change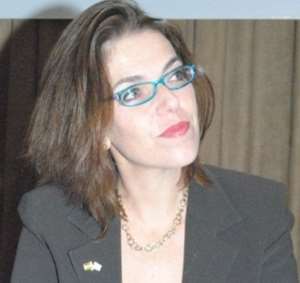 Sharon Bar-li, Israeli Ambassador to Ghana
Israeli Ambassador to Ghana, Sharon Bar-li has reiterated her country's willingness to cooperate with Ghana, particularly with tertiary institutions and research institutions in the country's fight against climate change.
Representing Israel at the second West Africa Regional Conference on Climate Change dubbed, 'Climate Change and its Impact on Africa: the role of science and engineering for Combat,' organized by the Organization of Women in Science for the Developing world, Ambassador Bar-li noted that countries that least contribute to climate change are the most affected by it.
She emphasized that climate change presents significant threats to the achievement of the Millennium Development Goals (MDGs) and expressed Israel's readiness to share its rich experience in the mitigation and adaption of climate change with Ghana.
According to her, over 120 Ghanaians have been trained in Israel this year alone through its International Agency for Development Cooperation, MASHAV on various topics related to climate change in programmes such as 'Environmental Management Frameworks and Tools against Climate Change' and 'Green Growth - Policy Measures as a Tool for Local and Regional Sustainable Development,' among others.
Such training programmes are offered on yearly basis to equip participants with critical understanding of the ways to deal with climate change while exposing them to analytical and practical Israeli expertise and presenting.
The training programmes also present policies and ideas that ensure environmental sustainability.
The West Africa Regional Conference on Climate change was hosted by the University of Energy and Natural Resources in the Brong Ahafo Region.
It brought together women scientists from the African continent.
 A business desk report