First Lady inaugurates girls' dormitory for GHANASCO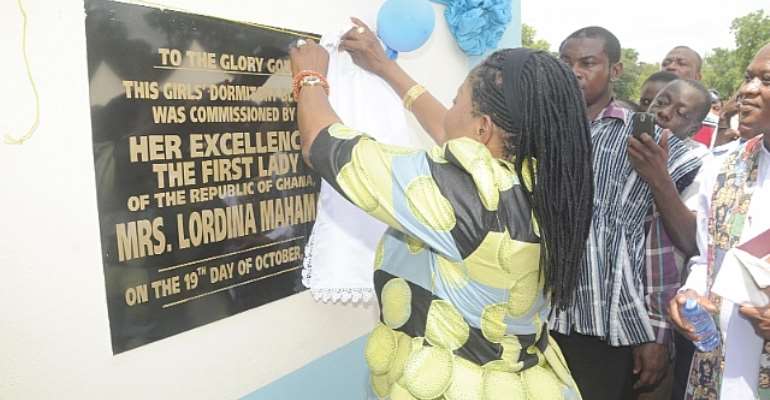 The First Lady, Mrs Lordina Mahama, at the weekend inaugurated a girls' dormitory for the Ghana Senior High School (GHANASCO) in Tamale.
The facility, which cost about GH¢1.7 million, was financed by the Ghana Education Trust Fund (GETFund) and can accommodate about 700 students at a time.
In an address, Mrs Mahama, who and President Mahama are old students of the school, expressed the determination of the government to continue to provide quality education as a way of addressing the vicious cycle of poverty facing people in the rural communities.
She further pointed out that "women must be empowered to be independent and the provision of quality education is key in that direction".
The First Lady stressed the need for the GHANASCO authorities to put in place mechanisms to maintain the facility.
She advised girls in the school to make good use of the facility to improve their academic performance to enable them to become responsible women to contribute meaningfully to the country's development.
The Headmistress of the school, Mrs Mary Dan-Braimah, noted that President Mahama laid the foundation stone for the dormitory three years ago and that both students and staff were excited as work progressed on the project over the years until its completion.
Touching on the challenges of the school, she stated that it lacked an assembly hall and an incinerator to ensure the proper disposal of tissue paper.
She also expressed concern over the poor drainage system and access roads in the school.
The Northern Regional Minister, Mr Bede Ziedeng, entreated the people of the region to consider the education of their children, particularly girls, a top priority.
He also appealed to traditional rulers and opinion leaders to join in the campaign to educate parents on the need for them to send their children to school.
By Vincent Amenuveve/Daily Graphic/Ghana