Sierra Leone Special Exhibition To Mark March 6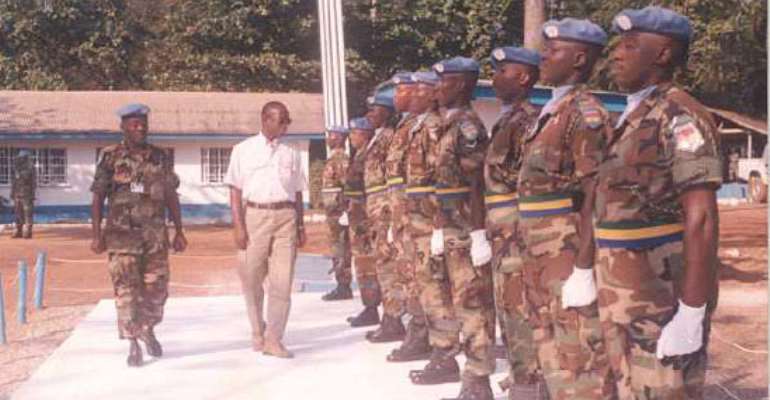 "The Ghana High Commission in Freetown is planning to hold a week-long SOLO MADE-IN-GHANA GOODS EXHIBITION from March 6, 2004, to mark Ghana's 47th Independence Anniversary.
The exhibition is being organised in conjunction with the Association of Ghana Industries(AGI) and the Ghana Export Promotion Council(GEPC).
The Minister of Trade and Industry of Sierra Leone, Dr. Khadi Sesay, last Monday launched the "Made-in-Ghana-Goods Exhbition". A similar launch took place in Accra on February 4, 2004.
Speaking at the launching ceremony, Dr. Sesay commended the initiative as a positive step in Sierra Leone-Ghana relations.
She said the government of Sierra Leone believes in inter-regional trade as the key to development and hoped the exhibition will provide the opportunity for entrepreuners in the two countries to do business together.
In his remarks, the High Commissioner of Ghana to Sierra Leone, H.E. Kabral Blay-Amihere said that the decision to hold the exhibition was in line with the policy of economic diplomacy of the Ghana Government, adding the timing was deliberate.
He said the focus this year is for all Ghanaian Missions abroad to use the occasion of Ghana's 47th Independence Anniversary to showcase Ghana's achievements, partiularly in the economic sector.
H.E. Blay-Amihere said that the exhibition in Freetown should lead to the creation of patnerships and joint ventures for the benefit of the peoples of the two countries.
He commended the Association of Ghana Industries for promptly accepting the invitation of the Ghana High Commission to organise the exhibition.
Mrs Rosemary Addico, a Business Consultant of the AGI , who represented the AGI at the launch, said that the AGI in its effort to promote Ghanaian goods has been organising similar exhibtions in other West African countries.
She said that participating members of the AGI were coming to Sierra Leone to do business "with our counterparts" and expressed the hope that the exhibition will increase the volume of trade between Ghana and Sierra Leone.
The Executive Secretary of the Ghana Export Promotion Council, Mr. Edward Collins Boateng,in his remarks said that the time has come for the two countries to translate their longstanding relationship into increased trade and other ecconomic activities.
About 30 Ghana comapnies are expected to participate in the exhbition.
This is the second time that the Ghana High Commission is hosting a trade exhbition. In October 2002, a successful Ghana-Sierra Leone Week that brought entrepreneurs from the two countries together, was held in Freetown. A reciprocal event will be held in Ghana next year".