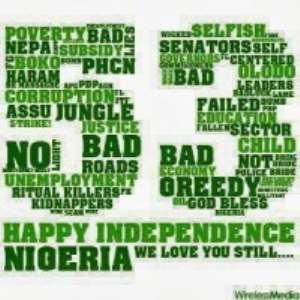 Half a decade and three years ago, our fathers launched unto this continent a nation conceived in true liberty, without the sound of gun nor a drop of blood. This moment of today may not have been their dreams, but still yet I'm proud to be a Nigeria, and it is this immortal love for my country that has kept my ink flowing. Across this land someday; will October 1st be proclaimed the World's Freedom Day. - Fejiro Oliver
If there is anything I regret in our 53 years of Independence; it's that I have been a loyal and patriotic Nigerian. Had I known, I should have carried the rocket launchers and caused the nation sleepless night, that way I would have been called to Aso Rock and ask my terms of condition. Trust me, I would have told then President Yaradua that I wanted an oil block and a monthly salary of N3 million Naira. No more, no less.
So we are 53 years today and for once, all our Abuja based politicians and house boys governors are in their various state stadiums delivering one speech of transformation that is not seen on ground but paper work. In 1999, the shouts of freedom filled our lips as we all screamed at the emergence of democracy; little did we know that we were screaming for a new breed of criminals who will only make their lives and not ours miserable. Is it because no soul was lost in the fight and quest for Independence that our leaders act the way they act?
That old fox called Obasanjo in 1999 retired several army generals, little did we know that he was preparing them to come through the back door, wearing Agbada to come and govern us. Oh we never knew that fuel price which was N20 then will become N120 as our 2012 New Year gift and that a bottle of Coke Kerosene will now be sold for N80 instead of N12 we bought in 1999.
Nigeria at 53 calls for no celebration and if you think there is a cause to celebrate, listen; subsidy they screamed with their voodoo economy theory will solve the problem of the country, but now we know that the billions all went to private bank accounts. See how they systematically freed Al Mustapha; little did we know that the game plan was for him to join the PDP and help capture the North for them in the rigging movie. I truly thought that the sacking of the Education minister which I advocated for was going to end ASUU strike; little did we know that the President sees strike as a normal thing which should continue.
Didn't they say that Boko Haram will soon fade out by the time our military men goes hard on them; little did we know that they will chase our Soldiers into the villages, scampering for their dear lives. Little did we know that Boko Haram will invade the barracks and cart away armories to use against the Nigerian government; and still yet you want us to celebrate such a nation at 53? Common folks, have our memories failed us when they offered amnesty to some boys? Little did we know that they were only creating few young billionaires, who will be rich enough to buy Jet, with some of them threatening the peace of the nation should President Jonathan lose the 2015 election. Little did we know that that the multi-billion naira surveillance contract to guard the pipelines will only increase oil theft.
What Independence day is it that billions of Naira have been budgeted to celebrate a country that is not yet a nation while my people groan in their home praying for the source of their meal? What are we celebrating? Is it the daily killing in the North or the economic injustice that the bureaucratic class has subjected the populace to?
Since we love to celebrate, let's dance owambe to many innocent Nigerians who are locked up in various cells and prisons of the country, with no hope of been released; simply because they don't have any 'big man' to speak for them. Let us celebrate a country at 53 for their lack of provision of water, good health care; where only a group of MBBS formerly claims to be lords until we demystified them lately. Let us celebrate our failure of not able to be a productive nation but a consuming nation where second hand products have all become the favorites.
And how about celebrating the fact that we are among the group of five corrupt nations on earth, where every Nigerian is a suspect at the mention of his/nationality? You love to celebrate, right? Let's throw a big party to a nation where her politicians are truly richer (forget the Forbes rating) than her business entrepreneurs and industrialists, haven looted the common treasury. This nation at 53 is worth celebrating for being able to create a set of men whose words are law, where true sovereignty lies in them and they are not accountable to anyone. Friends, lets pop wine for this great nation who criticized Ribadu of selective prosecution, yet in their regime, we do not even have such selective justice.
53 'lucky' thieves will get golden iphones from the presidency today and unfortunately enough I'm not one of them, but I do not worry, for I love to celebrate a country, whose hospitals are mortuaries and their citadels of learning are museums, fit only for where histories such as ours are told. We can really célèbre this country where Judges are thieves and justice given to the highest bidder; where lawyers graduates and walk about the cities with torn collar shirts and worn out shoes looking for jobs; then end up as 'charge and bail' lawyers. Let us pop champagne for this adult at 53 whose lecturers value the g-string pants of girls and getting in between the ladies laps, girls old enough to be their daughters and granddaughters in exchange for marks.
Don't you think we should also celebrate Nigeria at 53 where old men chose to marry their granddaughters age as wives and end up leaving them as widows, shouldn't we celebrate such that such marriage is money induced and not for the true love that we all desire to have?
Celebrate this words a fan sent to me, 'Independence day gives us the opportunity to celebrate our politicians' exalted sense of self-importance, their inflated ego and unmatched arrogance. Their sense of entitlement to act with impunity puts to shame the divine rights of kings- the theory by which England's monarchs claimed the right to rule, as God's chosen leader, during the Middle Ages.
Drunk on absolute power, Nigeria's politicians claim freedom from arrest; they further claimed the privilege to remain in their parliamentary seats even if convicted of serious crimes. And so we merely celebrate freedom from the British- but not freedom from hunger, illiteracy, diseases, sectarian killing of Nigerians, bureaucratic tyranny, hollow word or empty promises. We are celebrating 53 years of our rights to choose our own oppressors.
We also celebrate our rights to elect criminals to loot and Boko Hara to kill our people. Of course, our elected representatives have proven beyond doubt that they are better than the British, our erstwhile masters, in the dangerous game of divide and rule. Our leaders also outperform colonial authorities in appropriating to themselves unlimited power and wealth and the ability to stay in power from cradle to the grave. We replaced the British whose self-proclaimed mission in Nigeria was to civilize, with the Nigeria politician whose mission is personal aggrandizement.
We exchanged efficient and results oriented British administration for maladministration, and governance for inertia. Painful as it may be to our national pride, we replaced able foreign administrators for Nigeria criminals, who finally killed AT&P and DSC Steel. We exchanged foreign masters who would come and go for indigenous goons who go on and on. For most Nigerians, there is little to celebrate and hardly anything to look forward to, but our politicians celebrating Independence again in a big way. As inheritors of Niger from British, they are the ones who received the 'estate'. But they also appropriated far greater power and control over finances and state machinery- unfettered accountability and responsibility; than the British could ever manage.
We celebrate the fact that no senior Nigeria political criminals and looters has ever been convicted for his crimes in a Nigerian court of law, but the common man who stole the chickens in Nigerian face the law and the foolish Nigerian youths burn to death a man who steals a mere blackberry and leave the real thieves stealing their destinies and children's future. Whatever the green white green flag may means; it has no value now. I plead with all Nigerians; let us add a touch of red to that flag, for we have shed enough blood in this country, so much that the flag is no longer pure, nor the land fertile. The nation at 53 is stained with blood and those blood daily cry for vengeance against the Nigerian soil and the government.
As we celebrate Nigeria at 53, let us celebrate and congratulate the thousands of our politicians, both those in power and those temporary out, and their families, hangers-on and sycophants, those whom our oil blocs were given to and the industrialists who were given the chance and economic power to monopolize the economy for these are the men and women whom Independence has a meaning. For the rest; the overwhelming majority of Nigeria, a life of dignity and real Independence is still a dream.
These little things matter
Fejiro Oliver, a Journalist can be reached on [email protected] and +2348026797588 (sms only please). Engage him on twitter @fejirooliver86 and Facebook; fejirooliver86.