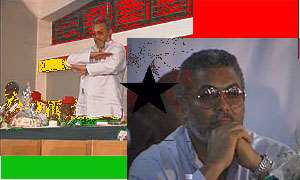 Rawlings Express willingness to appear before NRC Accra, Feb. 8, GNA - The former President Flt. Lt. Jerry John Rawlings, has expressed his willingness to appear before the National Reconciliation Commission (NRC), if he is subpoenaed.
He said he was not above the law and that if the law required him to appear before such a legally constituted body he certainly would. The former President said this to journalists at the airport on his arrival after being away from the country for a while.
"For some time now I have indicated my willingness to appear before the NRC if the need arises. There is no need for a subpoena to get Rawlings to the NRC."
Asked as to why he was out of the country for most of the time, the former President said often times his travels were at the invitation of international organizations and agencies, adding that former ministers would also be the guests of such agencies.
There were NDC sympathizers at the "meeters and greeters" point of the airport to welcome him after which he addressed them. He urged them to work hard to recapture power from the ruling New Patriotic Party.
Mr E.T. Mensah and Dr Kumbuor, all Members of Parliament met the former President on arrival.