'Women's participation in decisiono-making crucial'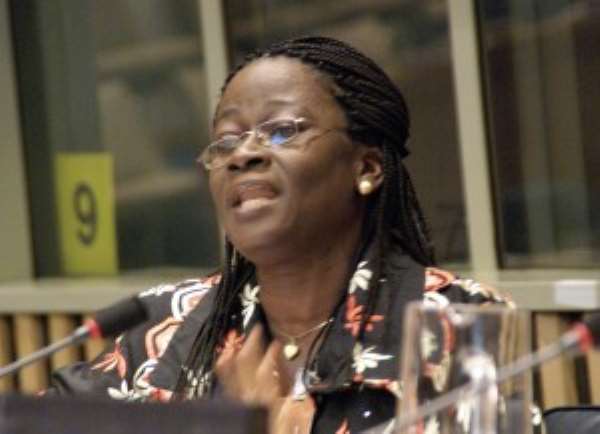 Women's participation and representation in public life in general and politics in particular is considered key to the development of all societies and a sure way of sustaining democracy.
One of democracy's major principles is human rights, which include the political rights of men and women. This means that women must participate fully and equally in politics and in all decision-making positions, including Parliament.
It is in light of this that participants at a national forum on gender equality and women's rights have called for more seriousness on the part of the government to include women in national development.
The participants also called on civil society organisations (CSOs), including political parties, to come together and work towards achieving gender parity in the country.
The forum, which was on the theme: 'Holding government accountable to its campaign promise of having 30 per cent of appointment as women', brought together CSOs, including the Centre for Democratic Development (CDD), the Institute for Economic Affairs (IEA), some gender-based organisations, including the Women in Law and Development (WiLDAF), ABANTU, the Domestic Violence (DV) Coalition and the Women's Manifesto Coalition.
Other representatives at the forum, which was organised by the Gender Studies and Human Rights Documentation Centre (Gender Centre), were from the New Patriotic Party (NPP), the Progressive People's Party (PPP), among other groups.
National and international obligations
At the national and international level, several instruments exist that stress the need for women's participation in decision-making structures.
The Beijing Platform for Action, to which Ghana was committed, for instance, sets a target of 30 per cent representation of women in all decision-making positions at all levels.
Article 7 of the Convention on the Elimination of all Forms of Discrimination (CEDAW), also places an obligation on state parties to take appropriate measures to eliminate discrimination against women in the political and public life of the country and to ensure that women are on equal terms with men, have the right to vote in all elections and are eligible for election to all public-elected bodies.
Additionally, the 1992 Constitution of Ghana gives equal rights to vote and be voted for.
What should be done?
To achieve these national and international obligations, the forum agreed that gender right CSOs and other vulnerable and excluded groups in society must come together to form a constituency to have a bigger platform to articulate their concerns, so that they can all have a voice to be included in the decision-making processes of the country.
A professor at the University of Ghana, Legon, Professor Dzodzi Tsikata, who is also the Director of the Centre for Gender Studies and Advocacy (CEGENSA), who made a presentation on 'Factors militating against women's nomination to decision-marking positions and strategies to hold government accountable', said women's participation in some areas such as education and social issues had improved over the years but female political participation, as well as their inclusion in the decision-making processes of the country, continued to experience a decline.
According to her, although there were high-profile political appointments for women in the country, including the position of Chief Justice, chairperson of the Council of State, the National Commission on Civic Education (NCCE) and the Commission on Human Rights and Administrative Justice (CHRAJ), it was not enough, as that was done without substantive reforms of the institutions.
'Women in offices sometimes cannot change agendas of their institutions,' she explained.
'We are fighting for a situation where women's appointment into decision-making positions will be no news,' she added.
She said issues on gender inequality in the country would not correct themselves but that it behooved people to take that collective responsibility to ensure that there was equal representation among all classes of people in the country.
Women as a group
Notwithstanding the institutional and structural factors that worked against women, Prof Tsikata said, the heterogeneity of women as a social group also made it impossible for them to excel, saying that gender identity was only one aspect of women's lives.
The Director of ABANTU for Development, Dr Rose Mensah Kutin, who chaired the forum, said it was time women had a voice and presence in national discourse.
She called on all to support the current AA process that the Ministry of Gender, Children and Social Protection was championing.
By Rebecca Quaicoe-Duho/Daily Graphic/Ghana
Writer's email: ' ); document.write( addy64148 ); document.write( '' ); //--> This e-mail address is being protected from spambots. You need JavaScript enabled to view it