Status Of The Liberian Refugees: The Leftovers Of Buduburam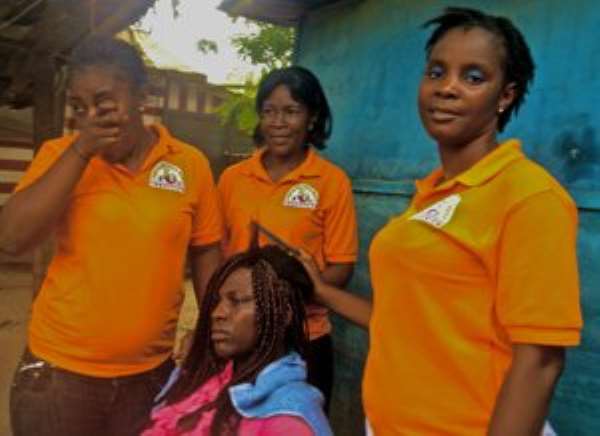 Young women learn how to braid hair at the Peculiar Touch Beauty Institute
Enclosed behind broken fences and a small wooden levy gate, the Buduburam refugee camp has become more of a miniature Liberia than a temporary camp, with nail salons, internet cafés, cinemas, small churches, brightly painted makeshift shelters, restaurants, and even of late, Liberian refugee landlords who have sold their unlicensed shacks to local Ghanaians.
'Anybody who has been a refugee for over 20 years has been a refugee for too long,' said Tetteh Padi, Programme Coordinator for the Ghana Refugee Board. 'Refugee situations are not situations anybody wants to exist over a long period of time.'
Which is why the Ghanaian government, in partnership with UNHCR, has announced its time for Liberians living at Buduburam to make a decision: local integration into the Ghanaian society or repatriation to Liberia. Plans to shut down the camp after 22 years—and return the borrowed land to its rightful owners—are being finalized.
'We are hoping this project won't go on any longer than a few months. We are projecting by the end of this year the refugees will be moved out,' said Padi.
In an area that once housed over 25,000 refugees, primarily from Liberia, the camp now holds a little over 4,000 Liberians. Although the Liberians have lost their refugee status after two stable political elections in Liberia, the camp also hosts a small handful of Ivorian, Nigerian, and Togolese refugees.
Currently, the Ghanaian government is working together with the UNHCR and Liberian government to issue passports to Buduburam inhabitants. Ghana Immigration Service is vetting the applications, interviewing people, and looking where to house those who have opted for local integration. Though it has taken years to complete, Mr. Padi says the process 'hasn't been difficult at all.'
Yet, a large number of Liberians claim they have not been provided with adequate information, and have not made a decision as to whether they will return to Liberia or opt for local integration.
Becoming Landlords
As Buduburam slowly empties, opening vacancies have tempted many Ghanaians to move in.
Liberians who have decided to go home, or who have opted for local integration, have been illegally selling their makeshift structures for roughly ¢300-500. Over two hundred Ghanaians have been settling in with their families, living amongst refugees and hawking on the streets to make a living.
http://www.dailyguideghana.com/wp-content/uploads/2013/08/Liberians.jpg
Liberians sign up for passports at the UNHCR office
The Ghana Refugee Board does not support the locals' actions, and plans to hand over the vast acres of land back to the appropriate landowners after the camp is successfully shut down.
'We are aware some of the refugees have handed over property they've occupied. If anybody, Ghanaian or not, has paid money to acquire any property on the Buduburam camp, it is a waste of their money,' said Mr. Padi.
The Ghana Refugee Board has been attempting to evict some of these Ghanaians, and conducted a raid of the camp a few years ago. According to Mr. Padi, some Ghanaians left but some stayed after the eviction.
'At the end of the day, when the land is taken back, I don't know what these people will do. Whoever has paid money to stay on the camp has done so probably out of ignorance, thinking and hoping nothing will happen to them,' he said.
But when the camp closes, Ghanaian residents on the camp will have to endure whatever fate will befall them. Some of them appear to be unconcerned.
Helena Aselme, mother of three, a Ghanaian resident on the camp, explained her reasons for moving into Budubruram: 'I have to find some place to put my head. It's not easy for us to pay rent in advance.'
When asked if she knows her stay is illegal, she said, 'Yes, no one asked me to come and stay here but I have no place to stay as a single mother. After I have acquired this structure at the cost of ¢500.00, I have no option but to stay because I will not pay rent advance besides this.'
The situation could potentially be a recipe for tension between the Ghanaians and the government after the Liberians return home or are integrated to other communities.
'They can't throw me out like a chicken or something. I'm government property. So far as I'm a Ghanaian, I get power to food for government. I need my peace. I need my time,' Aselme added.
Integrated Liberian vs. Ghanaian Government
Many Liberians claim they have not been provided with clear information from the Ghanaian government and UNHCR regarding the content of the integration package, and until this information is given to them, they have no plans to move.
'Integration lies in the hands of the government. Right now we are waiting on the government to come up with a package. The government is the only one who knows
about the package, we don't know anything about the package,' Jefferson All-Kay Clarke explained.
For most refugees, expectations from the Ghanaian government are high.
'When I am integrated into the society of Ghana, I believe the government of Ghana will have the responsibility to care for me and my entire family, they will send my kids to school, provide us with housing, with jobs, so on and so forth. We will put all these things together and we will make it.' Mr. Clark said. He has not decided what he will do yet.
Yet, the Ghana Refugee Board believes their expectations are clear.
'To the best of our ability, we've made them understand. Before the system came into place, we informed them exactly what their options were: local integration or repatriation. The only thing we could not provide was the level of assistance that would be given to them,' explained Mr. Pedi.
The package will include the basic standards of living a local Ghanaian receives: housing, education, access to healthcare and the ability to work. Mr. Pedi admits the asylees may face trouble finding jobs.
'They can have problems finding jobs. Ghanaians have problems finding jobs. We've made sure they will have all these facilities available to them just like Ghanaians. But of course, if you want to be realistic, all the problems Ghanaians face, they will face as well.'
With this picture, it is obvious government is mindful of additional responsibilities it has to perform towards the newly adopted citizens.
Owing to the pool of expectations on the government, it is important for the government and the UNHCR to create awareness among the asylees that they will not receive a bed of roses when they join the larger Ghanaian societies.
'Trauma is preventing my return'
For most still living at Buduburam, the violence they experienced during Liberia's civil wars of 1996 or 2003 has barred them from imagining returning home.
'I don't really want to bring back memories, it's terrible for me. I saw dead bodies. I saw people shoot people right in front of me. I walked for, I don't know how many days. I walked to the other side to look for food. It was a terrible experience,' explained Constance Bowier, 48, of her situation. Bowier has been living at Budubruam since 1996, living off the banku she cooks and sells on the streets.
'I don't know what I'll do. When I ask myself this question, about how I feel, if I stay or if I go, I don't want to stay and I don't want to go,' she said.
'Every man or woman has his or her reasons why they are here. My reasons for being in Ghana are because I came to Ghana for protection, not prosecution. What I've gone through, what I've experienced, I can't go back. Trauma is preventing my return,' said Jefferson All-Kay Clarke. The son of a top security guard for Liberia's overthrown president Samuel K. Doe, Clarke was 14 years old when the rebels broke into this house, killed his father and shot him in the neck.
'I honestly believe if I go back to Liberia, I will be killed,' he said. Mr. Clarke has been living at Buduburam for over 20 years. Now with a wife and two small children, Mr. Clarke has a hard time imagining life outside the dusty paths and concrete, hand-built shacks that wind through the large camp.
Yet, he does not find life in the camp suitable long-term.
'When the black dog is dirty no one notices,' he explained of his current living situation. 'This is a slum-like area. I just want what's best for my family.'
Discrimination
In addition to the challenges of integration, some of the campers do not feel welcome into the Ghanaian society.
Opa Freeman, a Liberian from Buduburam, said he faces discrimination daily on the streets as he tries to sell his fruits. He said once a man approached him and told him to return to Liberia.
Others agree. Gladys Wesley, a 32-year-old Liberian who has opted for integration, worries what life will be like outside the familiar walls of Buduburam.
'It's not easy. I'm used to Liberia. We eat together, we do everything in common. Let me be frank. In the Ghanaian setting, not everybody accepts you. People here speak their local dialect. Even when I'm in the trotro, people say to me, 'I don't understand you.''
Many have also found difficulties adapting to Ghana's unique cuisine and culture.
'I've been living here for 24 years, and we have not adapted to the system of Ghana. Because us Liberians, we were colonized by the Americans, so we have similarities to the American culture which makes it very difficult to adopt to the system in Ghana, and for the Ghanaians to adopt to our system,' said Jefferson All-Kay Clarke.
By: Maddy Crowell & Ernest Nutsugah