Iddisah Adam retains Kwabre DCE post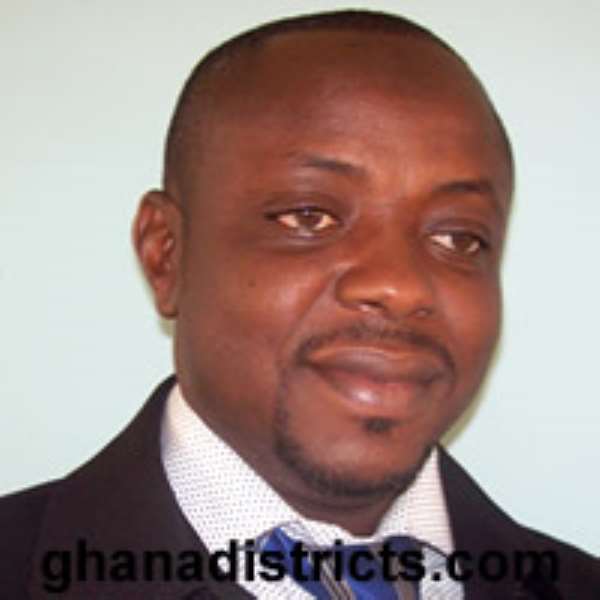 The incumbent District Chief Executive (DCE) for Kwabre, Mr Iddisah Adam, who was initially given a shock by the Kwabre Assembly members in the first round of voting, however secured the needed votes of the assembly members in the second round voting to confirm his re- nomination by the President.
Unlike the first voting in which he failed to obtain the two-thirds to win but secured 50 per cent for him to have another chance, this time round, Mr Iddisah polled 36 out of 42 votes cast by members present and voting, representing 85 per cent, in an election supervised by the Ashanti Regional electoral Officer, Mr Alex Tettey.
Mr Adam commended members for voting for him and assured them of his determination to continue to work with them to enable the area to have its share of the national cake.
The Deputy Ashanti Regional Minister, Mr Samuel Adusei, who was present, thanked members for voting for Mr Iddisah to continue with his good work.
Mr Iddisah told the Daily Graphic he had a shock of his life when he failed to receive the nod the first time, because he had worked closely with members of the assembly and together had undertaken a number of development projects spread across the district.
He said he expected to sail through the first time, but the reverse became the case.
Through the District Assemblies Common Fund (DACF), the District Development Fund (DDF), Getfund and the assembly's internally generated fund (IGF), he said, many projects were undertaken.
He said all the six senior high schools, namely Simms Senior High, Adanwomase Senior High, Antoa Senior High, Adventist Senior High at Ntonso, Kofi Agyei Senior High at Bampenase and Gyama Pensan Senior High at Aboso had got their share of the development projects.
He disclosed that Simms had got a four-storey building with eight flats as staff accommodation, a 50-bed capacity girls' dormitory. The school had also been supplied with 200 mono-beds, Mr Adam stressed.
He said the Adventist also had a two-storey girls' dormitory and a two-storey 12-unit classroom block, Adanwomase got a two-storey boys' dormitory block and a three-storey dormitory comprising a Science laboratory and an Information, Communication Technology (ICT) centre
Antoa SHS, he said, had a modern assembly hall, two teachers' quarters and a two-storey block each for girls and boys , while Gyama Pensan had an 18-unit classroom, a six-unit classroom block and a two storey dormitory each for both boys and girls while Kofi Agyei also had a three-storey, comprising 18 classrooms.
Mr Adam disclosed that many of the first cycle schools in the towns and the small communities in the district either had their classrooms rehabilitated or constructed because, according to him, education was the bedrock of every country and, therefore, the needed attention had been given to it in the district.
He said the assembly had sunk 120 boreholes spread across the district and also constructed 40 public places of convenience for first and second cycle schools in the district to improve sanitation.
He said a market, comprising 250 lockable stores and 150 stalls, was under construction at Mamponteng, the capital of the district.
By Nana Yaw Barimah, Mamponteng
Daily Graphic/graphic.com.gh/Ghana