Let politicians fight their own battles - Mahama tells Muslims youth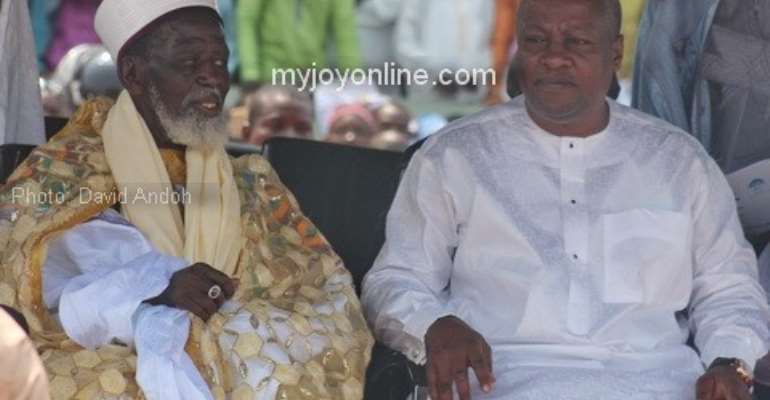 President John Dramani Mahama has called on the youth, especially Muslims and northerners, to be cautious not to allow themselves to be used by anybody to foment trouble in the impending Supreme Court verdict in the ongoing election petition.
"I wish to also call on our youth, especially our Muslim and northern youth not to allow themselves to be influenced by persons to fight their battles for them. Let people fight their own battles."
President Mahama was addressing Muslims at this year's celebrations of Eld-ul-Fitr at the Independence Square in Accra Thursday.
The President also reiterated his commitment to respect the outcome of the landmark election petition. He also enjoyed all to abide by the verdict to be delivered by the Supreme Court.
As he thanked God for preserving the peace of the country, he indicated that the election petition has in a way militated against the development of the country.
"It is my wish that we quickly put this litigation at the Supreme Court behind us and focus again in building a better Ghana for ourselves and our children".
He also asked Muslims to use the festival to show goodwill to each other, stating that the day is significant for Ghana in the sense that it is being marked "at a time when partisanship is tearing us apart".
President Mahama charged Ghanaians to see themselves as citizens of one nation of a common destiny, in that "Allah put all of us here for a purpose...we must therefore learn to live and work together to make Ghana a country that we can all be proud of".
He also appealed to the various religious faiths in the country to continue living in peace and show religious tolerance towards each other.
President John Mahama also announced that he has approved proposals for the establishment of a National Pilgrimages Board.
The Chief of Staff, he said, has been directed to lead a team to draft a bill for the establishment of the Board.
The President said the Board will manage all pilgrimages in the country from next year.
He also advised celebrants to note that the occasion was a day of celebration and "not a day of madness", and warned against careless behaviours.