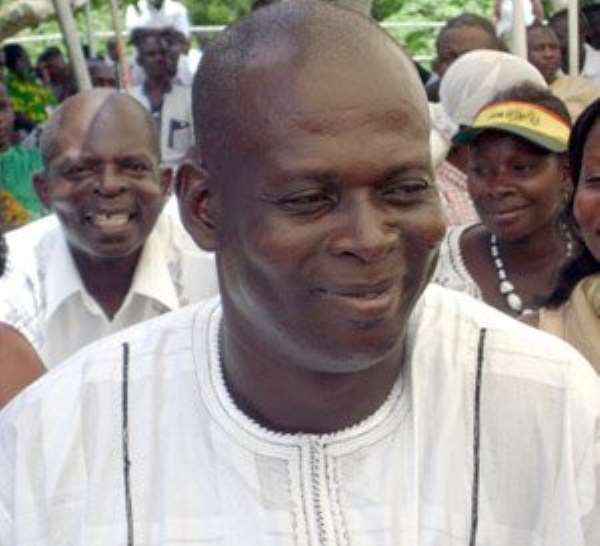 Eric Addae, Asutifi North DCE
The irate NDC supporters, who chanted war songs, stormed the official residence of the DCE on Sunday in a protest against his continuous stay in office.
They called on President Mahama to remove him from office immediately.
Party supporters and some constituency executives retrieved the Mahindra pick-up amidst jubilation.
Eyewitnesses told DAILY GUIDE that the heavy presence of the police prevented the aggrieved party protesters from ransacking the property of the beleaguered DCE.
According to the party executives, the DCE refused to release the vehicle to the party after he was defeated in the last elections.
The protesters have draped the party's office with red bands in protest against his continuous stay in office.
Officials of the party said the people have lost faith in the DCE.
The Constituency Propaganda Secretary, Mustapha Ahmed, alleged that Hon. Addae used the pick-up to undertake private assignment, a development which compelled the party to forcibly retrieve it.
He said he and some constituency executives, led by the chairman, Charles Addae, constituency secretary, treasurer are opposed to the re-nomination of Eric Addae.
They described the DCE as a bad leader, who has failed to unite the rank and file of the party in the constituency.
The Asutifi North NDC Propaganda Secretary warned President Mahama not to renominate Hon Addae since they would do everything possible to reject him.
He explained that the party petitioned the National Chairman of the NDC over the matter, indicating that they sent a similar petition to the late President Mills in 2010 over the conduct of Hon Addae.
It would be recalled that a section of the constituency executives recently threatened to defect to the main opposition New Patriotic Party (NPP) with their supporters if the president renominates Eric Addae.
They also threatened to repaint the NDC office in the coluors of the NPP.
Eric Addae is among a few DCEs in the region who have not been asked to hand over to the regional minister.
FROM Fred Tettey Alarti-Amoako, Sunyani