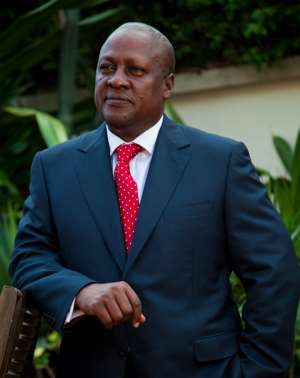 Fellow countrymen/women, very soon, Mr. Mahama will be one year in office after taking full control of affairs of governance. Prior to becoming a 'political professor' he was lucky in the game and meta -morphosed during the period to be made vice president of the Republic. Luck smiled at him to become a stop-gap president on the demise of the incum -bent a year ago to oversee the elections that were conducted in 2012 bringing in its trail some controversy surrounding the whole electoral process with the resultant legal battle still ongoing in our courts. As the full captain in command of the flagship 'Ghana', his profile has close to four years apprenticeship experience as vice under Mr. Mills. Furthermore, he had since 1992 been an MP for Bole-Bamboi constituency in the Northern Region for more than three consecutive terms of 4 years each. So therefore, now that he has had chance to be a full commandant and the political metamorphosis as a legislator, his governance should have proved every skeptic wrong that he was a non-starter. Before becoming a 'Goodluck' president, between the death of Mr. Mills and the official swearing-in of Mr. Mahama on the night of July 24, 2012, he had been heard loud and clear at the top of his voice from the roof tops that Mr. Mills virtually delegated official powers of governance to him because of the confidence reposed in him and also the stuff that he was made of. He has no excuse whatsoever to be calling on Ghanaians to wait for a moment to see miracles whilst the appointees keep bleeding and creating, looting and sharing the treasures from the kitty with the hope that the $3bn Chinese loan that has still become a stillborn and nightmare, would arrive to replenish the already 'stolen' purse unnoticed. As already hinted, the author will also quickly jump into the first officer's seat and critically examine how he simulates and commands the flight while airborne. The author assures the numerous readers and fellow compatriots to prepare their minds in anxiety for the flight report when the jet aircraft safely lands at the Kotoka Airport. Please read on as at some point in time, the revelations will be very mouth-watering and thought-provoking.
1. Mr. Mahama's marrow-less bone economy has rendered the whole population save a few around him to be in abject poverty and unless people who want to refuse to believe this fact can refute that.
2. During his one year's captainship, not an ant's pace has been made by his government towards the retrieval of several billions of 'Stolen Monies' from judgment debts for Ghana and this could be attributed probably to complicity hence their feet-dragging to save face and conceal the skeletons still in the cupboards.
3. His governance has witnessed several serial/contract killings in Ashanti more than anywhere else for which the police have no clue till now. This gives suspicion and lends credence to the region's dislike for his party.
4. Till date as you read this piece, the UTAG/POTAG/NAGRAT peanut allowances have not been met while the executive, i.e. the presidency continues to enjoy the Gh¢12,000.00/month; with the ministers and deputies also taking home some Gh¢10,000.00 and Gh¢8,500.00/month and the legislature enjoying Gh¢7,500.00 respectively. Why the glaring salary disparity as if George Orwell's 'Animal Farm' was at play here in Ghana.
5. Unprecedented customs duties and unnecessary/irrelevant levies by faceless persons who claim to have the sanction of government, have retarded the economic activities at the ports and as it were, to compel majority of importers to redirect their goods/merchandize via Lome, Togo, where, presumably, it is a free port.
6. The NACOB'S recent show of arrogance to halt the exporters of their perishable cargo by air has clearly dented Ghana's image on the inter -national market. Could it be a truism that the government wants to ruin individual private businesses? Who could be those faceless persons at NACOB whilst on record, it is a common perennial knowledge by Ghanaians that many people are of the opinion that some staff rather act as 'agents provocateur' to assist the drug barons to do their illegal lucrative businesses at the peril of Ghana? Can the NACOB truly extricate their outfit from culpability in the case that the KIA security capo was finally arrested in the USA?
7. Because the situation in Ghana seems as if there was nobody in full control of governance, and Team Mahama having woefully, hopelessly and helplessly come to its wits end without any clue, the feud or civil unrest between the people of Alavanyo and Nkonya continues unabated and unresolved and so the imposition of the night curfew is neither here nor there.
8. The carefully and suspected planned fire outbreaks at Kantamanto, Agbobloshie and Makola No.2 , all in Accra; the Kumasi Central Market and a couple of others are testamentary evidence that the government or its assigns/appointees must have had a stake in it otherwise, no sooner than later, few hours after such pathetic incidents, the respective authorities from those assemblies rush to give statements that are self-incriminating.
9. Even though Cuba's bilateral relations with Ghana incorporates free medical courses for our youth; yet, the Mahama government has had a wrong bite in that pie that was free for the 250 students. He is yet to come clean and not until he has been able to purge himself of John here, John there and John everywhere to drive that kind of devilish debacle around his neck as 'villain of the peace' tag, about a year ago. What a daylight robbery of the State and a big disgrace as if all were blind!
10. Trust me, the Prampram International airport announced by the president soon on arrival from Turkey was to cajole the people into voting for them in future elections as previous campaign promises have sent them to the gallows and are awaiting instructions from above' for the attendant to press the knob to chop off heads.
11. Equally to be a white elephant project is the promise of 200 Community SHS nationwide; the president would have done himself a great favour to save face if he had rather not mentioned it at all; but since promises have become part and parcel of his lifestyle, he could not sleep over it than to disclose it. Even despite the submission of a report by the said so-called 3 wisemen it will get nowhere. Mark my word.
12. Due to the unprecedented gargantuan electoral fraud with Mr. Mahama as beneficiary, courtesy, Dr. Afari Djan, three persons namely, Nana Akufo Addo, Dr. Bawumia and Jake Obetsebi Lamptey have been compelled to contest the case in the Supreme Court instead of inciting their supporters to take to the street and also avoiding bloodshed.
13. In view of government's abysmal performance with the handling of the economy with single inflation for three years consecutively; is it still prudent for the Finance ministry to have two deputies and continues to have a full minister of State in the person of Fiifi Kwetey, at the presidency who never performed any special miracles while a deputy there?
14. Is it now true that because of the exorbitant levies in the system, the IRS, as one arm of the tripartite body of Ghana Revenue Authority - VAT/ CEPS/IRS, now invites tax defaulters to their offices at the negotiating table as to how instalment payments could be made with them unlike the previous times when defaulters would be slapped with penalties?
15. Mr. Mahama's government still performs abysmally, yet, it is hell bent on celebrating the one year's anniversary of Mr. Mills's demise; come the end of July or thereabout.
16. As a result of economic hardship, the Ghana Police Service, probably as one of the hardest hit, have for three consecutive years, topped the corruption list in Ghana by an internationally accepted corruption analysts as Numero Un. No amount of explanation could be deemed fit as face saving by their PR experts. Thank God for Kwesi Ofori's relocation to Kumasi as he is now not the point of contact by the media houses for the deceitful gimmicks.
17. The presidential press corps is reported as saying that the recent tour included the ECOWAS confab in Abuja, visited Japan and U.K. to also confer with the kingpins of the G.8 in London. Miraculously, the president arrived back in Ghana before the commencement of the G.8 conference, yet the presidential paparazzi deceitfully narrated to Ghanaians that he in fact he was privileged to confer with David Cameron, the British Premier before returning. How credible could this assertion be and how true is this as well?
18. For those who don't know, a similar trip undertaken by ex-president John Kufuor enabled Ghanaians to be gifted with a $3bn debt owed the G.8 in Scotland sometime ago. His huge and gentle posture conjured magic wand to inspire our creditors to cancel off our debt for us. One really wonders whether the entourage included Mr. Mosquito, who, inarguably, many skeptics say, his personality alone may not appeal to the inter -national community for such a favour.
19. Fellow countrymen, the government's ineptitude has resulted in the slow death of NHIS with the resultant effect that many lives that otherwise could have been saved are rather being lost on daily basis especially in Ashanti courtesy, the wisdom of Sallas Mensah, its chief executive.
20. Again, because the economy is out of gear, the government indebted -ness to GETFund has astronomically sky-rocketed.
21. Fellow readers, is it not very pathetic that the government till now has not released the monies for the upkeep of the physically Impaired and/or the challenged have not been sent as their subsidies. Isn't this very criminal and unreligious?
22. To talk about the MP's Common Fund for district level development in our rural communities, the better it would be; as there were some periods that MPs salaries were in arrears. God saves the Queen!
23. TILL NOW, NOT A SINGLE LOCAL CONTRACTOR HAS BEEN PAID OVER A PERIOD OF THREE YEARS OR EVEN MORE. AS A RESULT, SOME CONTRACTORS HAVE LOST THEIR LIVES BECAUSE THE BANKS/ FINANCIERS HAVE NOT GIVEN UP WITH THEIR CHASE AND THE LEGAL AVENUES TO RECLAIM. A CONTRACTOR WHO WANTS TO REMAIN IN ANONYMITY, CONFIDED THAT THE FINANCE MINISTRY/CONTROLLER & ACCOUNTANT-GENERAL'S OFFICIALS, DESPITE THEIR NON-PAYMENT, STILL TRAIL THEIR HEELS FOR THEIR POUND OF FLESH FROM SUCH YET-TO-RESURRECT PAYMENT LONG BEFORE THE CHEQUE LANDS. HOPE, GHANAIANS UNDERSTAND THIS. ALL THIS IS DUE TO BAD ECONOMIC MEASURES ADOPTED TO EMPTY THE NATIONAL PURSE TO FULFIL PROMISES MADE TO SELECTED CHIEFS/JUDGES. Rather strangely, almost all BANK OF GHANA CHEQUES for payment to government-sponsored projects - be it 6-unit classroom blocks, school furniture, culverts, road construction and what have you, the BOG cheque for such payment will no doubt bounce no matter the assurances.
24. It is unfortunate that due to the poor nature of our economy, HE Amissah- Arthur, the vice president, a seemingly regrettable personality that he sees himself, must have realized his folly now; and the better option perhaps available, was to recoil and go into hibernation so as to remain unnoticed.
25. However, as a result of poor and erratic power supply by ECG/VRA/ GRIDCO, many companies that otherwise, served as source of livelihood have laid off thousands of such people because they have been equally forced by the ineptitude of these quasi-government agencies as a result of power fluctuations and some obsolete equipment et cetera.
26. Certainly, Mills's faithfuls such as Henry Martey Newman, Koku Anyidoho, Kobby Acheampong, Ofosu Ampofo (Foto), Comfort Ama Benyiwa Doe, Fritz Baffour etc., whose names do not immediately click, have been left to their fate in limbo.
27. Wonders, they say, would never end and truly will never end in Ghana. It is only Mahama's Administration that would sink huge sums of precious Cedis into a Guinea fowl project to feed the nation and probably for export only to be realized in the end by Ghanaians that the said budgetary allocation was to grease the palms of the leadership of government.
28. It is an eyesore that as you probably read this piece, viable road projects like the Achimota-Ofankor stretch, the Nsawam-Apedwa and the Sofoline inter-change around the Prempeh College in Kumasi that were about 80% complete before the transition in 2009 have seen little development. Pity!
29. Ironically, it is Mahama's Ghana that some substance that has been tested by laboratory experts and suspected to be cocaine under lock and key in the police grips at the headquarters could turn into caustic soda when tendered at the law courts for trial of barons. Very incredible! And with this disclosure they think they have an escape chute to argue/refute their globally analyzed corruption case and disprove their ranking.
30. To date, not a single percentage has been added onto the expansion of the School Feeding programme initiated by the Kufuor regime. Very strange indeed.
31. A political prisoner like Ken 'Saro Wiwa' Kuranchi, Managing Editor of the Daily Searchlight was, according to rife rumours that later leaked, to be sent to all the 10 regional prisons during his 10-day incarceration to teach him a bitter lesson even though that was not the ruling by the SC. That is show of power.
32. Undeniably, the ECG actions/inactions have seriously ruined the few companies still in operation to further worsen the plight of workers.
33. It is a hard fact that as at now, no attempt has been made to grapple with the restoration of either Ghana Airways or the Black Star Line yet the government cherishes in allocating huge sums of money for GYEDA, the Guinea fowl project and aforestation in the North that was embarked upon in the dry season from where they would have avenue to milk the country. And is that sensible at all to pursue this line of action?
34. Could it be true that the Mahama-Amissah-Arthur government is alleged to have doled some $6m for purchase of water cannons, tear gas equip -ment etc. for the police to quell anticipated election demonstrators in 2012 while our hospitals cry for essential drugs including anesthesia, doctors/nurses moan for duty equipment and their allowances, UTAG/ POTAG/NAGRAT also yearn for better service conditions and their 'peanut' allowances. To talk about basic school teachers and their service conditions, the better it will be to save breath.
35. Since 1992 it is only this regime whose electoral results have been clearly contested in the courts to save the nation from the brink of collapse if not but for the magnanimity of the opposition leadership and foresight.
36. It is only a youthful president such as him who would continue to tolerate fraudsters and their alleged accomplices like Barton Odro and Nerquaye Tetteh in government and approves or assigns 'Terminator' Tony Lithur who was principally fingered in the payment of judgment debts cases to drain the national kitty to be his counsel in the EPH currently ongoing.
37. NACOB's alleged collaboration with drug barons have seriously ruined the government's already tarnished image as supported by the evidence in chief of the arrest of former security capo of the Kotoka airport in USA.
38. It is very sad that the arrest of large cocaine haul in Germany and the UK has been unprecedented. What international disgrace could be more humiliating than this?
39. Dr. Opuni's FDA impregnated arrogance is to antagonize political opponents and ruin their businesses - Kinapharma, Angel Herbal, Yafo Yafo, Oheneba Ntim Health shop, Semanhyia herbal products etc. should not be glossed over.
40. It is only Mr. Mahama's government that could reap when it hasn't sowed: they commission a street name - 'JOHN EVANS ATTA MILLS ROAD' whose construction they have no clue about its site plan.
41. Again, it is only in the era of Mahama's governance that a minister arrogantly burns seized wax prints from smugglers in the open and government later sends an SOS message to foreign donors to come help our deprived inmates who are physically handicapped and impaired. Could the burnt wax prints not have been shared to these unfortunate deprived children? Is this not stupidity at the highest level?
42. Mahama's government has sanctioned Chinese galamsey operators because some appointees are supposed to be beneficiaries. True or False?
43. As already hinted, due to the unprecedented abject poverty reigning supreme, the Ghana Police Service personnel; as probably the worst hit (take it or leave it), have no option to survive the heat created by the government than to top the corruption table with distinction.
44. As a result of the prevailing poverty, misfits within the Ghana Water Company could not also contain the heat but to defiantly use expired chemicals to treat the pipe borne water for majority of Ghanaians so as to pocket the money for fresh purchases. And such people go to the churches/mosques to worship. That is Mahama's government and quasi-government departments for you.
45. Impudently, it is only the Mills-Mahama-Amissah Arthur government that will not tap the rich expertise of internationally acclaimed specialist like Prof. Kwabena Frimpong-Boateng of cardio-thoracic fame but to leave him to his fate to deteriorate. What a myopic mind-boggling decision!
46. Frankly, it is only Mahama's governance that the police, notwithstanding the constitutional mandate of freedom of association, could have the guts to seek 'unjustified' injunction to restrain demonstrations of all kinds. Furthermore, the police due to arrogance, flout the constitution, go to court to seek an indefinite injunction to infringe our freedom of association to ban demonstrations. For how long can the Mohammed Alhassan Police continue to gleefully flout the Constitution to seek an injunction? Time will tell.
47. To date, reliable information chanced upon indicates that about 65% of Mahama's political appointees are in default of the declaration of assets lodgments with the Auditor-General despite the assets grabbing which is a clear violation of the constitutional requirement.
48. The reckless dissipation of the national kitty by the NDC regime to dish out brand new 4x4 Land Cruiser, Hyundai i10 and i30 vehicles to chiefs, some selected members of the judiciary and tertiary students respectively plus of course, tons of Cedis to buy votes, resulted in the marrow-less bone economy.
49. Why has Murtala Mohammed so suddenly decided to self-masturbate as if all was well with Ghanaians in this poverty-stricken economy? Where was he during the Mills's era to be now jabbing bla, bla, bla?
50. For the first time in Ghana's history, the stipends for the running of institutions for the physically handicapped/impaired have been scrapped. Sheer cruelty and wickedness! And to crown this piece, the MPs Common Fund has become centre of controversy: no money for development at the constituency level in the districts.
51. The government is saddled with many square pegs in round holes - (ex-convict but later pardoned Dan Abodakpi, as an Ambassador to Malaysia, Ebo Barton Odro and Nerquaye Tetteh, alleged accomplices in the Woyome scandal, are still at post).
ADMONITION: Ghanaians should never lose hope. Pray without ceasing. The seat of government and presidency are likely to have a 'contemporaneous' change like a whirlwind. And it is hoped His Lordship, Justice William Atuguba and his team of Eminent Justices headed by the Chief Justice, Her Ladyship, Justice Georgina Theodora Wood, will be bold, fearless and spiritually guided by Solomon's wisdom to give a just, transparent and impartial judgment devoid of fear or favour and based on facts and truth, nothing but the whole truth and justice to show their fear of God, to maintain their reputation, integrity, dignity, status quo that will be in consonance with national cohesion and acceptable by all the feuding parties for absolute peace to prevail and reign supreme in Ghana to save the country from becoming a waterloo and to deny gun manufacturers the booty from their businesses.
HUMOUR - Don't you think the government's posture is like a thief who has stolen a cell-phone with the support of a house-help but, because he has no technical knowledge about its complex nature as how it is operated, fumbles and fiddles with it until he gets caught, jailed and the property given back to the rightful owner? That is your new 'Amicus Curia'. 'Asansa akofa dompe, etua n'ano kwa, eye okraman dea' translated in English as thus - naturally, because the bone isn't the delicacy for the hawk/kite, whenever someone presents him with one, he will graciously decline to look for the dog to have a luncheon party.