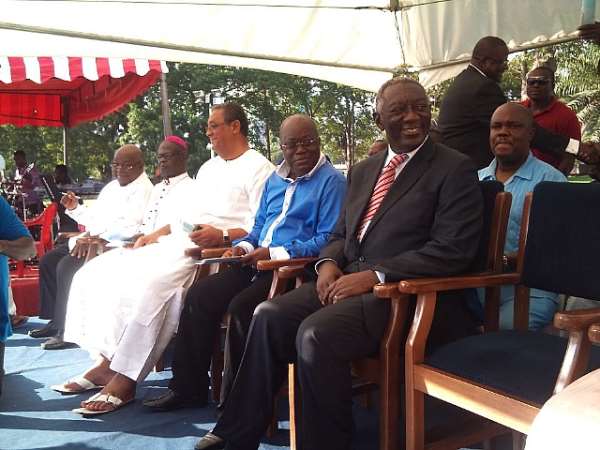 I am writing this article based on facts and figures but not on conjectures. In writing this factual article, I want to table it on 3 important basic thematic areas. The thematic areas are THE GENESIS OF THE ARTICLE, THE SUBSTANCE/BODY OF THE ARTICLE and THE CONCLUSION/GENERALIZATION OF THE ARTICLE.
Now read on:
THE GENESIS
In August, 1947, the first political party was formed in the country. The aim of that political party was to win INDEPENDENCE from the tyranny rule of the British.
That political party was called the United Gold Coast Convention (U.G.C.C.).
It had its Chairman at that time to be George Grant, J.B. Danquah and R.S. Blay were the Vice Chairmen and Dr. Kwame Nkrumah was made the General Secretary.
It is historically important to note that, somewhere along the line, the leaders of the party started reneging on their struggle for the INDEPENDENCE because they have had all that they wanted(Education, Wealth, Fame etc) against the interests of the preponderant number of Ghanaians at the time.
Realizing this act of tokenism and elitism on the part of the leaders(J.B. Danquah, R.S. Blay, George Grant et al), Dr. Kwame Nkrumah decided to break away from the U.G.C.C. and formed his own political party to liberate Gold Coast from imperialism and foreign rule.
In doing that, Dr. Kwame Nkrumah broke away with the Youth Wing of the UGCC because the Youth also didn't fathom with the tokenism and elitism on the part of the leaders.
And so with the support of members like Dzewu, K.A. Gbedemah, K. Botsio, Saki Scheck, Kofi Baako and Krobo Edusei, Dr. Kwame Nkrumah formed the Convention People's Party (CPP) in June, 1949.
Now, the terrorism starts. History has it that Dr. Kwame Nkrumah SUFFERED not less than 10 BOMB ATTACKS. The first General Elections held in the country was in 1951 and Dr. Kwame Nkrumah won that election massively. His overwhelming victory in that election translated him into the Head of Government Business. In 1952, Dr. Kwame Nkrumah became the Prime Minister. The second General Election in the country was held in 1954 and here again, Dr. Kwame Nkrumah won that election overwhelmingly with 79 out of the 104 seats in the Legislature/Parliament.
In the same year (1954), after his victory, Dr. Kwame Nkrumah SUFFERED his first BOMB ATTACK. The opposition planted a BOMB that detonated in Nkrumah's residence. It was only God who saved the man that day. It is imperative to note that the 1954 election was to take the country into SELF-RULE (INDEPENDENCE).
In that year (1954), Dr. Kwame Nkrumah tabled the motion declaring the sovereignty and the INDEPENDENCE of Gold Coast from the British rule.
As part their opposition to Dr. Kwame Nkrumah, Busia too held a press conference and condemned Nkrumah's motion. Indeed, Busia led a team known as the National Liberation Movement(NLM) to the Queen and indicated to her that they were not interested in the INDEPENDENCE and that Nkrumah and his allies were charlatans, reckless people and all manner of words were used in that letter written by Busia.
They pleaded with the Queen that they wanted a Federal State but not a Unitary State as Nkrumah was fighting for. Just ask yourself, how could a country with a population of about 6 million people at that time be migrated into a Federal State? It just doesn't make sense.
Because of that gross rebellion and insubordination displayed by Busia and his allies, the British denied the country the INDEPENDENCE it desired and caused a fresh election in 1956.
In that election, Nkrumah never said "all die be die ","I will win at all cost","y3n Akanfuor di3","Nkroful (Atiwa) koraa y3kyer33 biribi kakra w) h)","obiara nni h) a )y3 barima sen ne ny)nko, obiara de3 y3 mienu mienu". His followers never said "lynch the police ","kill Gas and Ewes ","hit their mouths with w) ma funu" etc. Nkrumah and his allies never made such despicable, appalling, execrable, disgusting, nauseating, flabbergasting, wanzamic, barbaric, demonic, satanic and diabolic posturings but he won the 1956 election. So in 1957, that is a year after, the country gained her INDEPENDENCE that the majority of the people desired. One year after INDEPENDENCE, that is exactly on 10th November, 1958, Dr. Kwame Nkrumah SUFFERED his second BOMB ATTACK.
To issue their third ATTACK, the police who were the allies of the opposition, deliberately put one Seth Ametowe on duty at a place where Nkrumah's car had been packed. Nkrumah came out from the same Flagstaff House at 1 pm and was going for lunch. Seth Ametowe (an ally of the opposition) fired 4 shots, tashua, tashua, tashua and tashua at Nkrumah. Again, it was God who saved the man that day. The loyal police who went to rescue Nkrumah, some died and some were injured.
Have you forgotten Kulungugu? The fourth BOMB ATTACK was issued when Dr. Kwame Nkrumah had gone to meet President Morris Yamyogo, the President of the then Upper Volta, now known as Burkina Faso and he passed through Bawku. On his way back to Ghana, there were so many people out with flowers to pay homage and Nkrumah decided to greet the Bawku Naba. There was a young innocent girl with a bouquet of flowers to the President(Nkrumah), immediately, the BOMB blasted and killed that innocent young girl. History has it that 55 people got injured and some died after being taken to the hospital.
The fifth BOMB ATTACK was issued when Nkrumah had gone to India and on his return to the Accra International Airport, BOMBS were thrown at him. The sixth BOMB ATTACK was issued when Nkrumah decided to build the Akosombo Dam. As part of their opposition to Nkrumah, they were being collaborated to BOMB the Akosombo Dam. The worst thing was when Nkrumah was overthrown in 1966.
Nkrumah made the following powerful statements;
1. "Our opponents have been singularly confused in their aims, methods and approaches and will not hesitate to make an alliance with the devil himself if by so doing, they will subvert the victorious match of the masses towards their 'just' aspirations. The reason they adopt such tactics is because they fear democracy and the common man and they try to camouflage such fear by undermining the multi-party democracy and the parliamentary elections we have been able to introduce into this country".
2. "The opponents are people with narrow intellectual and political horizon but they always see themselves as the leading stars" I can go on and on and on but I think based on the above points, the purpose of my article has been served so I will now talk about the SUBSTANCE/BODY of my article.
SUBSTANCE/BODY
In discussing the SUBSTANCE/BODY of this article, it is significantly imperative to put on record that, the NPP we have today didn't just pop up. It is the descendant of the Taxonomy of the Danquah-Busia Tradition which came down to the NLM-NRC which also came down to the UP and later metamorphosed into the NPP we have today.
History has it that, the NPP as a political party has never accepted any electoral results before as long as it does not go their way.
Now, in 1992, they were apparently vanquished massively but in their usual orchestrated, contrived, calculated and deliberate attempt to dispute the results, they wrote the "Stolen Verdict" and boycotted the entire parliamentary elections. When Busia won the 1969 election, they saw its legitimacy even though that election was clearly manipulated in favour of Busia. Again, when they won both the 2000 and 2004 elections, they saw the legitimacy of those elections because it was in their favour.
Admittedly, the NDC went to court in 2004 but we didn't go there to dispute the electoral results. What we were seeking for at that time was that, the EC should gazette and publish the results. We didn't smash cars, we didn't kill innocent people, we didn't engage in any act of vandalism. This is an indisputable fact unless you want to close your eyes and ears facts and figures. Interestingly, when the NDC apparently won the 2008 election, Nana Akuffo Addo sent his lawyers in the middle of the night to seek for an injunction over the results of the 2008 election. Lawyers call it midnight jurisprudence.
It took the indefatigability of the likes of Tony Lithur and Tsatsu Tsikata to stop that deadly manoeuvre by Atta Akyea and the rest. Then we had the 2012 election which saw the most strategic and sophisticated manner of conduction of elections. We had the biometric registration, biometric verification and a biometric register.
How could we have had a political party (NPP) that would engage in all manner of pre-electoral and post-electoral violence? We heard a whole opposition leader(Nana Addo) making the following nauseating, sordid, flabbergasting and despicable remarks; "I will win at all cost","Atiwa koraa y3kyer33 biribi kakra","if I don't win the 2012 election, all die be die","obiara de3 y3 mienu mienu","y3n Akanfour de3" etc.
I wasn't bewildered when he said "y3n Akanfour" because history has it that when Nkrumah and the majority of Ghanaians were fighting for a Unitary State, the proponents of Federalism were in the Ashanti and Eastern regions and so that is why they made that unpopular and infamous phrase that "y3re gye y3 man". To them if you are not an Akan, you are not fit to rule and the equation is BOMB. Then Kennedy Agyepong says "kill Gas and Ewes","lynch the police"," I declare war in the country" etc. Then Sammy Awuku says "hit their mouths with womafunu and take positions" etc.
You remember when Nana Addo said we don't want a Laurant Gbagbo in Ghana? I am not surprised to hear that today, the NPP are demonizing Laurant Gbagbo and praising Allassane Ouattara. History has it that all the BOMBS issued on Nkrumah were coming from Ivory Coast under the tyranny rule of Felix Houphouet Boigny.
The Danquah-Busia Tradition used Ivory Coast under Houphouet Boigny as a safe haven to issue their BOMB ATTACKS on Nkrumah. Nana Addo is calling JM a Gbagbo and praising Ouattara because Allassane Ouattara and his antecedents have been their allies for quite a number of years. I have read the Ivorian history and I am telling you that, Allassane Ouattara served in Houphouet Boigny's government and history has it that, it was one the most lasting brutal dictatorships in Africa which didn't allow free expression/seech, which sensored the media and was essentially a neocolonial one party state.
It was Laurant Gbagbo who stood up against all forms of dictatorships, it was Gbagbo who made sure that the Ivorian natural resources were exploited to the benefit of the citizens which hitherto could not be seen under Allassane Ouattara and Houphouet Boigny. It is also imperative to note that, it was Laurant Gbagbo who fought for the introduction of multi-party dispensation in Ivory Coast. The only demand Laurant Gbagbo made was that, he wanted the electoral results recounted.
Indeed, Gbagbo said that the EC should recount the results but if after the recount it appeared again that he had lost, he would leave office. Indeed, the Ivorian electoral law allows for a recount but Allassane Ouattara said no there would be no recount and because Ouattara's administration has about 60% of the Ivorian National Reserve in France and other French speaking countries, they rallied behind him (Ouattara) and demonized Laurant Gbagbo and today perpetrators of mass murder are serving in the administration of Allassane Ouattara with euphoria, jollity, jamboree and gusto.
With all these facts that I have enumerated, Nana Addo said he wants to be Allassane Ouattara and that John Dramani Mahama is a Gbagbo. In the light of these facts, in juxtaposition of Allassane Ouattara and Laurant Gbagbo, I Abubakar will prefer to be a Gbagbo than Ouattara because the facts are clear.
Then after the declaration of the 2012 electoral results, the NPP engaged in all manner of vandalism, killing and maiming innocent citizens, smashing cars and all sort of violence posturing. Later, they said they were going to court. What kind of political party is the NPP?
I have always argued my NPP friends both in my Constituency and on facebook that look, going to court to seek redress is not a crime but in the case of the NPP, it was an afterthought and therefore, has no credibility. Now the case is in court and adjudication continues. In this article, I don't want to discuss the court issue because it will amount to pre-judgemental and pre-judicial.
CONCLUSION/GENERALIZATION
With all that I have said, I can suffice it to say that, the bane of our democratic forward match is the deliberate attempts of the NPP to place themselves at/in comfortable positions in everything in the country, be it election or a court case and when it backfires, then they resort to all manner of stupidity as they did before, during and after the 2012 elections.
How could we have had a useless coalition called Let My Vote something something, which is clearly sympathetic to the NPP calling for the manufacture of BOMBS to be blasted in schools, markets, lorry stations and hospitals ? Does it make sense? When the BOMBS blast, are the BOMBS going to ask for the child of JM or NADAA before they kill?
I am glad those who manufactured BOMBS did not give them identification targets. That useless man called Hopson Adoryee who made that call should listen carefully that when BOMBS explode, they kill everybody present but not only NDC people. This is a travesty of common sense and a lack of respect for logic! No wonder the likes of Budu Koomson, Atta Krufi and Hopson Adoryee are espousing Coup d'tat in these contemporary times. They should try it and they will be resisted by the masses of Ghana. Listen to the wikileak cable on the 2008 elections about the key actors.
I have read it because of this article and it is imperative for me to capture it in my article. Per the wikileak cable, all the actors had a good commendation from the American government but on Nana Addo alone, they said that "Akuffo Addo's non concession came well after most of his party members and the Ghanaian public at large had gone way of waiting and offended by the stalin.
Several media commentators characterized it as too little too late. As it has played out, Akuffo Addo has done his reputation no favour by his delay tactics, court filing, non-participation in Tain and finally, his passive and aggressive congratulation to Atta Mills"(RIP).
I want to stand on this score and say that The Danquah-Busia Tradition/NLM/NRC/UP/NPP is a political party with a terrible history of terrorism. Whether you like it or hate it, this is a fact and facts are facts!!!
ANNONATION/EXTRA NOTE
It took me three good days to write this factual article. Indeed, in writing of articles and of course any other literature, it is important to respect the sanctity of facts and figures. For this reason, and as far as this article is concerned, I have conducted so many researches to fortify my article.
I said ab initio that this article is based on facts and figures but not on mere conjectures. Therefore, whatever I have said in this article is the true reflection of what happened and it is 100% congruous with the truth.
ALL RIGHTS RESERVED !!!