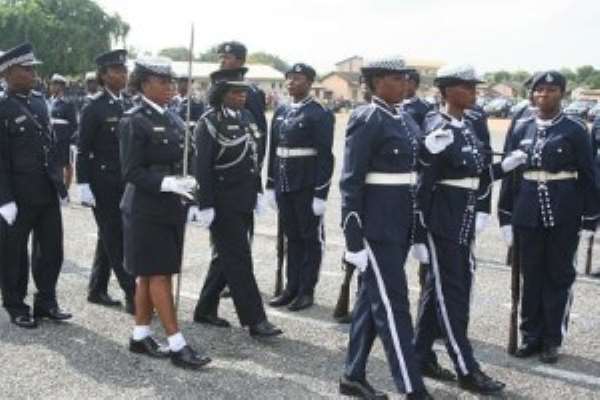 One hundred and fifty female recruits have successfully completed Basic Police Training, and are ready to be integrated into the main stream of policing to enforce law, protect life and property.
According to the Deputy Commissioner of Police (DCOP) Rose Bio Atinga, who chaired the passing-out parade on behalf of the Inspector-General of Police (IGP), Mr. Mohammed Ahmed Alhassan, the 150 female recruits represent 33 per cent of 2,402 recruits who passed out last week.
At the Thursday 20 June 2013 passing-out parade at the National Police Training School in Accra, COP Rose Atinga noted that the United Nations Security Council Resolution (UNSCR) 1325 acknowledges the role women play in peace negotiations, humanitarian planning, peacekeeping operations, post-conflict peace building and governance, and therefore requires more females in the service.
'This resolution urges greater representation of women at all levels in security and peace keeping operations. This goes to uphold the principles of gender and non-discrimination in recruitment, based on sex,' she stressed.
She urged the recruits to distinguish themselves and win the trust and confidence of the civilian public with resilience, tolerance, honesty and good judgment.
She added that the police administration had arranged number of training packages to improve their skills, competence and professionalism.
'Your performance throughout the eighteen months period of probation forms the basis for assessment. Those of you who fail to make the mark will be shown the exit,' she warned.
Madam Rose Atinga appealed to the general public to join the police to prevent and combat crime. 'It is an established fact that without public cooperation there is very little the police can achieve in terms of its objectives. It is, therefore, the civic duty of all members of the public to be active stakeholders in policing to enable the service improve upon the quality of service it renders to the good people of Ghana.'