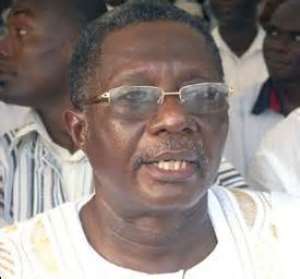 Stakeholders in the fight against child labour have called on the Mahama-led government as a matter of urgency to create a separate budget for child labour issues in the country.
According to them, if a separate budget is created for child labour issues, it would go a long way to address the financial challenges hindering labour programmes and activities in Ghana.
They made the called at the media launch of this year's World Day Against Child Labour in Accra, over the weekend.
The Chief Executive Officer of Rescue Foundation (NGO), Madam Sylvia Hinson-Ekong reiterated this view when she observed that the current practice of lumping together child labour funds to the Ministry of Employment and Labour Relations budget was not the best.
She explained that at times funds meant for child labour could be diverted to support other areas or department(s) of the ministry, adding 'We need real budget from the central government to address the child labour menace'.
The annual event, which falls on June 12, every year, would be commemorated in Ghana on the theme: 'Ghana, Take Action Now! No to Child Labour in Domestic Work.'
Senior officials of the Child Labour Department of the Ministry of Employment and Labour Relations, organizers of the event say various activities across the country would be organized to mark the day.
The Chief Technical Advisor, International Labour Organisation (ILO),  Stephen McClelland called on Ghana to domesticate critical conventions on the elimination of all forms of child labour by incorporating them into national laws and ensure enforcement.
Although Ghana has pursued various programmes aimed at reducing the practice, the decline in the number of cases has been very slow, he noted.
However, Mr. McClelland commended Ghana for her commitment to the fight against child labour over the years by approving a number of ILO conventions notably the Elimination of Worst Forms of Child Labour (WFCL).
He revealed that research on children in Ghana estimates that a total of 15.5 million children are engaged in paid and unpaid domestic work in homes of a third party or employer, and these children are found to be exposed to various dangers, rights violations and deprivation of childhood liberties while growing up under restricted and harsh conditions.
Advertisement
While more than 12 million children are globally engaged in work that deprived them of adequate education, health, leisure and basic freedoms, which violates their rights.
Again, in Ghana, the 2001 Ghana Child Labour Survey (GCLS 2001) report of the Ghana Statistical Service published in 2003, estimates that 242,000 children are engaged in hazardous child labour and many of them are exploited in the large, unregulated traditional apprenticeship schemes.
Although the report did not collect data on many WFCL, there are evidence  of large numbers of children working in areas such as domestic work, manual handling and transportation of heavy loads (Kaya and kayaye activities), commercial sex exploitation, small-scale mining (Galamsey), stone quarrying, fishing and in cash crop agriculture.
Others are also found in the urban informal economy such as cattle herding, transportation, traditional restaurants 'chop bars' begging and especially petty trading with street children becoming an increasingly visible phenomenon in the country's cities.
'The statistics are worrying', Mr. McClelland, therefore, urged the media to intensify its education to change public attitude.
In a speech read on his behalf, Minister of Employment and Labour Relations, Nii Armah Ashietey, said the government was committed in addressing the child labour menace hence the government readiness to adopt the ILO Convention 189, which offers specific protection to domestic workers.
He noted the new convention laid down basic rights and principles and requires states to take a series of measures with a view to making decent work a reality for domestic workers.
The President of Ghana Journalists Association (GJA), Affail Monney who chaired the launch called on journalists to give priority to child labour issues reporting because 'Children right has been violated without no fault of theirs'.
 
Madam Katherine Adu Boadi, an official of the Ministry of Gender and Social Protection who spoke passionately about the menace attributed it to poor parenting and negative cultural practices such as 'trokosi'.