Entrepreneurs Foundation of Ghana to award outstanding entrepreneurs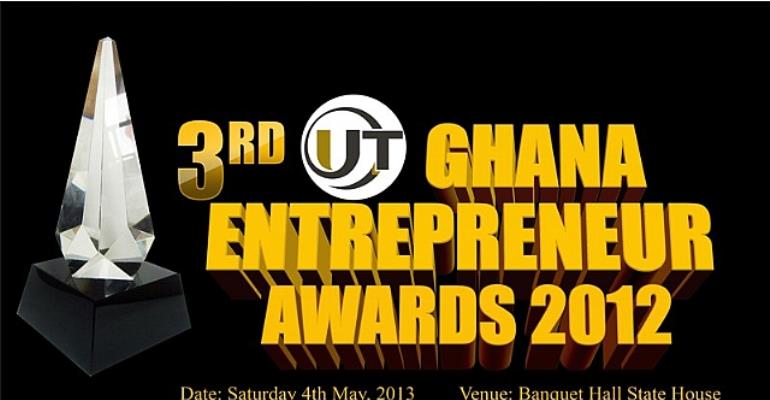 Accra, March 3, GNA - Some outstanding entrepreneurs have been nominated to receive honours at the third edition of UT- Ghana Entrepreneur Awards 2012 on the theme: 'Celebrating Entrepreneurship, the engine of economic growth.'
The event being organised by Entrepreneurs Foundation of Ghana, with UT Bank as the main title sponsor is scheduled for Saturday, May 4, at the Banquet Hall, State House in Accra.
Ghana Chamber of Commerce and Industry, Business and Financial Times, Entrepreneur Magazine, Afrodan Ltd and Anointed Electricals Engineering Services are co-sponsors of the programme.
A statement issued in Accra by Mr Sam Ato Gaisie, Founder and President of Entrepreneurs Foundation of Ghana said some of the entrepreneurs nominated includes Mr Roland Agambile, Group Chairman, Agams Group,  Togbe Afede XIV, Founder/Chairman, SAS Group, Mr Saied Fakhry, Chairman, Interplast Ghana Ltd, Mr Brian Maxted, Chief Executive Officer (CEO), Kosmos Energy, Alhaji Yusif Ibrahim, Chairman, Dara Salam Group, Mr Charles Mensah, Executive Chairman, Myroc Group and Mr William Adjovu- Group CEO, Liberty Group.
Others are Mr Rockson Dogbegah, Chairman, Berock Ventures Ltd, Mr Nabil Moukarzel, Chairman, Finatrade Group, Mr Daniel McKorley, CEO, McDan Shipping Ltd, Mrs Kate Quartey-Papafio, CEO, Reroy Cables Ltd, Ms Eunice I.A Ogbugo, CEO, Eugo Terrano Ltd, Mrs Ellen Hagan,CEO, L'aine Services Ltd, Mr Elikem Nutifafa  Kuenyehia, Managing Partner, Oxford & Beaumont Solicitors, Mr Mike Nyinaku,CEO,Beige Village Golf Resort & Spa Ltd ,Mr Jihad Hijazi, Managing Director, Auto Plaza Ltd and Ms Mireille Hitti, Executive Director, Duraplast Ghana Ltd.
The rest are Mr Kwabena Nyarko, CEO, Buena Vista Homes Ltd, Dr Paul Kofi Fynn, Chancellor, Wisconsin International University College, Mr Ramesh M. Sadhwani & Mr Mahesh A.Melwani, Joint Group Managing Director, Melcom Group, Mr Gopal Vasu, Managing Director, M & G Pharmaceutical Ltd, Dr Wisdom Amegbletor, CEO, New Crystal Health Services Ltd, Chief Paul Crystal Djirackor, CEO, Crystal TV and Mr Kofi Mangesi, CEO, C10 Business World Ltd.
Other entrepreneurs nominated for the various categories are Mr Kofi Dadzie, CEO, Rancard solutions, Mrs Theresa Ayoade, Executive Director, Charterhouse Productions, Mr Pak-Wo Shum, Managing Director, Aviation Alliance, Mr Tonyi Senayah, CEO, Horseman Shoes. Mrs Leticia Osafo-Addo, CEO, Processed Food & Spices Ltd and Professor Edmund Delle, CEO, Rabito Health Services Ltd.
The key objectives of the awards include recognition and rewarding the best entrepreneurs in the Ghanaian business community for their contribution to supporting economic growth and spurring job creation.
The awards are open to all entrepreneurs, Ghanaian or non-Ghanaian, who have been leading their organisations for more than three years with demonstrable improvements in size, market share, sales and increase in growth.
The judging panel will be looking for entrepreneurial spirit, vision and innovation, financial performance and growth, personal integrity and commitment, strategic and marketing involvement and proven involvement in corporate social responsibility.
The statement said categories being competed for are Overall Best Entrepreneur of the Year 2012, Entrepreneur Hall of Fame, Young Entrepreneur, Lifetime Entrepreneur, International Entrepreneur, Outstanding Entrepreneur, Special Entrepreneur, Serial Entrepreneur, Woman Entrepreneur and Most Promising Entrepreneur.
There would be awards in Corporate Business, ICT, Financial, Manufacturing, Small Scale Industry, Pharmaceuticals, Healthcare, Electronic and Print Media, Entertainment, Education and Agribusiness.
Others are Transport and Logistics, Hospitality & Tourism, Travel and Tours, Property and Real Estate Development, Building and Civil Engineering and Trading & Retailing.
UT Ghana Entrepreneur Awards 2012 is the third in the series which have so far honoured some of the prominent Ghanaian entrepreneurs including Prince Kofi Amoabeng, CEO of UT Bank and Dr Joseph Siaw Agyepong, Executive Chairman of Zoomlion Group who won Overall Best Entrepreneur in 2010 and 2011.
GNA