President Mahama glad he did not go to see Black Stars lose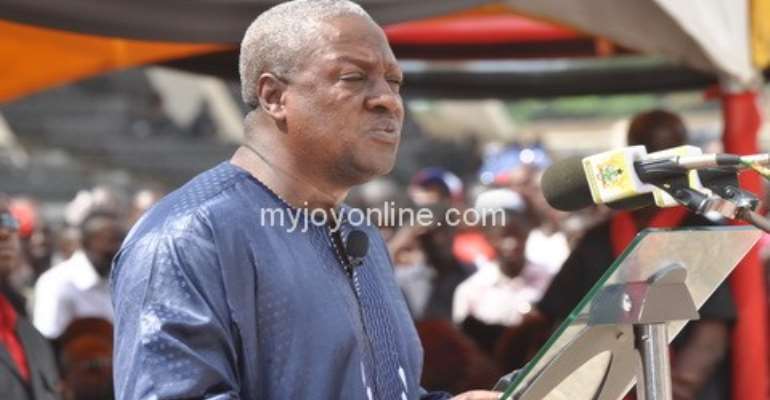 President John Mahama says he is glad he did not go to South Africa to see the Black Stars defeated in their semi final march against Burkina Faso on Wednesday night in the ongoing African Cup of Nations (AFCON).
Speaking at the official ceremony to mark his move to the Flagstaff house today, the President said "I know this morning we are all heartbroken by our unfortunate defeat by Burkina Faso in the African Cup of Nations Yesterday night – my Vice President was there yesterday evening to watch the march and I don't envy him, and I'm glad I didn't go."
The president's statement, even though jovial, comes at a time when the Black Stars are leaking their wounds over Wednesday night's defeat, and trying to regain their courage for the third place march against Mali, scheduled for Sunday.
President John Mahama however noted that this is wakeup call to the realization that no country is small when it comes to soccer.
He said there was need for the country to embark on a rebuilding exercise to ensure the Black Stars returns to its pride of place in the rankings of African soccer.
"This government will work with the GFA (Ghana Football Association) to carry out a postmortem on what happened and take the corrective measure to restore the Black Stars to their place of glory," he said.
It would be recalled that during the time of the late President John Evans Atta Mills, he went to see the Black Stars play in the World Cup and he prayed for them.
President Mahama's statement has attracted mixed reaction from the public, with some saying it was a jovial comment, others saying the president was right in not wasting taxpayers' money to go see that abysmal performance from the Black Stars, and other saying the statement was unfortunate.
Several Ghanaians posted message on Facebook saying the statement was nothing more than a jovial comment, but some who spoke with Adom News said even if it was means for a joke, the President had no business making that expensive joke because the Black Stars have one more march to play and they need to know the president still believes in them.