€13.7m syllabus digitization Project takes off soon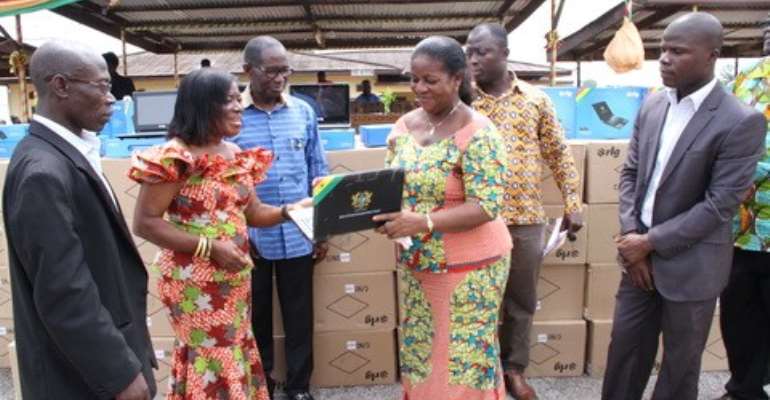 A project to digitize academic syllabus of basic and second cycle schools in the country is expected to take off soon.
Outgoing Minister for Education, Ambassador Lee Ocran who announced this in the Central Regional capital, Cape Coast said an amount of 13.7 million Euros have been secured by government to execute the project.
The project forms part of ongoing interventions by government to ensure the use of ICT in teaching and learning in schools.
The Minister was speaking at a ceremony to handover 8,928 Rlg branded laptops to basic schools in the Central Region, the ninth region to benefit from the project which began last year.
372 basic schools in the region will be given a set of 24 laptops each, a trolley and other accessories to use for the teaching and learning of ICT, research and teaching in general.
Ambassador Lee Ocran said since commencement of the project, 40,000 laptops have been distributed to basic schools in all regions excerpt Ashanti Region who are due to receive theirs in the next few weeks.
The initiative is intended to supply a total of 60,000 laptops to basic schools under the Basic School Computerization Project being implemented by the ministry of education with funding from the Ghana Education Trust Fund whilst an ICT Device assembling firm, Rlg Communications undertakes the supplies.
The Minister said the next phase of the project will focus on teachers, ensuring that 50,000 teachers get a laptop each to aid research and teaching methodologies.
"Eventually we want to replace the use of chalk and black boards with computers and projectors in teaching and learning," the Minister intimated.
The outgoing Central Regional Minister, Ama Benyiwa-Doe said by conceiving and successfully implementing the project, government has amply demonstrated its avowed commitment towards quality education.
The Corporate Affairs Manager of Rlg communications, Emmanuel Arthur urged efficient use of the equipment by facilitators and pupils.
The ceremony was attended by District and Metropolitan Directors of Education in the region as well as the outgoing Regional Director of Education, Kofi Safo Kantanka.