Police Recruitment Forms Not On Sale Yet—DSP Cephas Arthur Discloses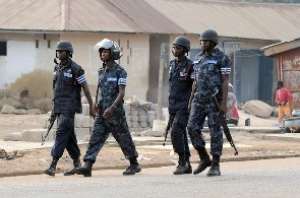 The Ghana Police Service is warning the general public against the sale of fake police recruitment forms by some members of the public.
This follows earlier reports that the Ghana National Fire Service (a sister security service) had started selling forms to the general public.
The police stated that their checks have indicated that some individuals are making money with the sale of recruitment forms purportedly from the service.
Speaking to Citi News the Public Relations Officer of the Ghana Police Service, DSP Cephas Arthur said "the police are not selling their recruitment forms now, we haven't opened our recruitment."
According to him, there have been rumors that the police service is selling forms.
He indicated that, this could be as a result of some sister security services who are also selling their forms.
He noted that there has been some sort of misinformation to the general public.
Therefore "the need for us to come out and let the general public know that we haven't opened our recruitment exercise for the year 2013 so the public should be very cautious as to who they deal with" he added.