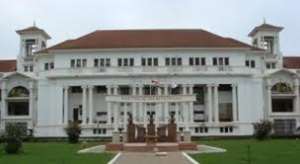 President Obama's State Visit to Ghana would remind readers about his appeal to Ghanaians to build strong institutions, respect and allow them to execute their duties without the least obstacle and hindrance.
This has indeed fallen to deaf ears on the part of the NPP whose recent actions and reactions have demonstrated gross incompetence, disrespect and impoliteness to the Electoral Commission in the wake of recent ended elections which were conducted freely and fairly.
The NPP caucus in the persons of Nana Akufo-Addo, Dr. Mahamudu Bawumia and the party's Chairman Jake Otanka Obetsebi-Lamptey filed petition at the Supreme Court to challenge the declaration of John Dramani Mahama as President-elect after the December 7 and 8 general elections.
The petitioners prayed the highest court of the land to declare that "President Mahama was not validly elected president of Ghana" but wanted the court to declare Nana Akufo-Addo as president- elect instead.
In the process, President John Mahama and the EC (the autonomous body that supervised and conducted the general elections) have been cited as respondents in the court suit.
Readers will agree with me that, the Electoral Commission being an autonomous body has over the years earned high reputation and international recognition.
Likewise, any attempt to drag President Mahama to court will be unconstitutional since the nation's constitution stipulates that, the sitting president shall not be summoned to any law court.
The same NPP challenged the statistical service about the inflation drop to a single digit just because they were uncomfortable with the successes of the Mills/Mahama administration. They were indeed ashamed that something they could not achieve in eight good years someone had achieved in less than four years and sustained it till now.
True to their colour, they (NPP) mostly keep mute whenever events or incidences go their way but when things go against them, they play the most victimized and try to throw dust in the eyes of Ghanaians. So they accuse the police of bias whenever members of their party are invited by the police for questioning on an issue or the other. An example is the infamous case of Hon. Kennedy Agyapong.
As far as our democratic dispensation is concerned, NPP has nothing patriotic or nationalistic even though they took the name 'New Patriotic Party'. All their utterances and ways have being evil motivated otherwise I do not think that a whole Flag bearer and leader of that party would utter words such as "ALL DIE BE DIE."
The earlier the NPP learnt to respect state institutions, the better for them.
God bless our Nation Ghana.
Report by: Mensah Dekportor
www.topafric.com ([email protected])