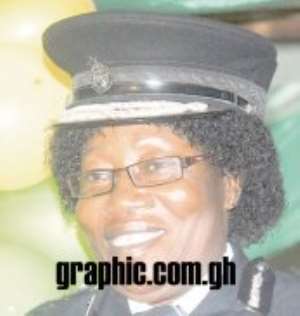 Mrs Rose Bio Atinga
The Ghana Police Service has set up a Media Monitoring Unit to quickly deal with election related issues.
According to the service, effective monitoring of media content will assist them to formulate functional policies, strategies and decisions to deal with the challenges of the 2012 Elections.
Opening a five-day training programme to upgrade the skills of the Media Monitoring Personnel drawn from the Public Affairs Unit of the Ghana Police Service in Accra on Monday, the Commissioner of Police (COP) in Charge of Administration , Mrs Rose Bio Atinga, said the Media Unit had been fitted with the state-of-the-art equipment to ensure effective monitoring of the media for a better public service.
Mrs Atinga said monitoring media content had become imperative for the police to know all that was happening within the political process which may not be known through traditional sources of information.
She said that the police administration appreciated the crucial role information played in every day activities and described the new centre and the training as some of the measures the police had instituted to ensure a peaceful elections come December.
Mrs Atinga said no organisation or institution, especially a security one like the police, could ignore this vital element and succeed.
She said the media, as the fourth estate of the realm due to the crucial role they play in democratic states by holding public institutions and servants accountable to the public, also serve as the watch-dog for the people.
COP Atinga said the effort of the police were also a further assurance to the public that the police were leaving no stone unturned in their bid to secure the integrity of the 2012 election.
She urged the participants to take advantage of the opportunity and imbibe with zeal whatever knowledge would be imparted unto them and pass it on to their colleagues.
On his part, Assistant Commissioner of Police (ACP) Mr Frank Kwofie, the Director of CID Operations, said for every institution to make progress in whatever it had chosen to do it was incumbent upon it to keep abreast of time.
He said from time to time there was the need for revision of methods of operation, upgrading of knowledge and skills and overhauling of equipment. The Police Administration acknowledges this fact and continues to put measures in place regularly to enable the service to be of use to the public that they serve.
He said the police administration considers training and retraining as an essential tool in the provision of better services and attainment of their goals as contained in the strategic National Policing Plan.
ACP Kwofie said the course was therefore in line with the general objectives of the police administration to bring the Ghana Police Service to the levels of international best practices.