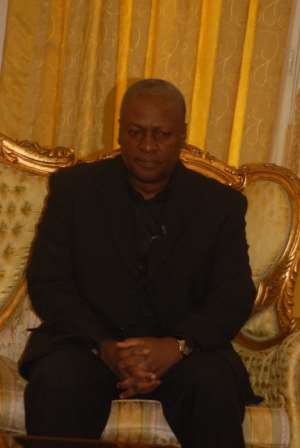 Accra, Aug. 3, GNA - President John Dramani Mahama on Friday appealed to the leadership of political parties to step up education programmes that would discourage their supporters from trading in insults during political campaigns.
He said the death of President John Atta Mills had opened a new page for Ghanaians to unite and boost the democratic credentials the country had achieved over the past years.
"We in government will do everything possible to conduct political activities with a sense of dignity and decency to continue to consolidate and raise Ghana's enviable position in African political ladder," President Mahama said when the leadership of the Assemblies of God Church, Ghana, called on him at the Osu Castle, Accra.
The delegation was at the Castle to commiserate with President Mahama on the death of President Mills.
It was also there to congratulate President Mahama for his assumption of office as President and to present a message from the Presidency of World Assemblies of God Fellowship.
President Mahama said leaders of political parties normally did not engage in political insults, and educating their supporters against the practice could help the Electoral Commission to effectively and peacefully to conduct the December 7 polls.
He called on Ghanaians to be circumspect in their arguments concerning the death and burial of President Mills, to ensure peace and tranquility to befit the late President Mills as "Asomdwehene" (King of Peace).
The President declared Friday, August 10, a public holiday, to enable all Ghanaians everywhere to participate in President Mills' funeral.
Reverend Dr Paul Frimpong Manso, General Superintendent of Assemblies of God Church in Ghana, who led the delegation, described the late President Mills as "A rainbow with many colours - a politician, an academician, Christian, humble and tolerant."
The clergyman commended politicians and journalists for conducting themselves well after the death of President Mills and asked them to extend the behavior to the December 7 polls.
GNA