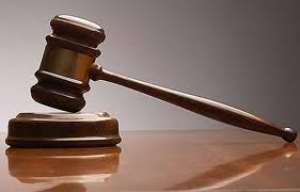 Cape Coast, July 26, GNA - Four conservancy workers of the University of Cape Coast (UCC) were on Tuesday put before a Circuit Court in Cape Coast for allegedly threatening to kill Mr James Atoborah Otoo, a painter of the same institution.
The four, Kwame Gyan, a cleaner, Kwame Mensah, a labourer, Kwabena Mensah alias Otic, a farm labourer and Kwabena Ebow, a carpenter.
Two others, who reside with the other four as well as the complainant at Abura- Adukrom, a suburb of Cape Coast, are Kwabena Mensah, a mechanic and Kofi Arkoh, a taxi driver, also appeared with them.
All the six accused persons pleaded not guilty to threat of death and are to reappear in court on Monday, August 6.
The facts of the case by the prosecution were that, on Sunday, May 27 this year, around 2230 hours Gyan, armed with a single barrel gun, with the others who were holding cutlasses, confronted Mr Otoo near a mosque at Abura- Adukrom.
The prosecution said Otic switched off the nearest street light to avoid being seen and pointed the gun at Mr Otoo whom they had accused of spreading information that Kwame Gyan had falsified documents with another name Kojo Nti, using it to work at the UCC.
They threatened to kill him if they should hear of any such information again.
Mr Otoo lodged a complaint at the Police Station the following day leading to the arrest of the accused persons.
GNA