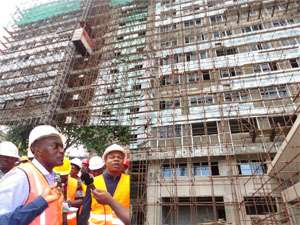 Accra, July 4, GNA - Work on the conversion of the State House Tower Block (Job 600) into offices for Parliamentarians would be completed in August, Mr Enoch Teye Mensah, Minster of Works and Housing, announced in Accra.
Addressing the media at the meet-the-press series, on Tuesday, Mr Mensah said work on the offices was progressing steadily and expected to be completed for use by Parliamentarians with, most of them "having their offices in the boots of their cars".
He said the project showcased the Government's bid to strengthen the structures of democracy and institutions of State as well as providing permanent offices for Parliamentarians.
On the Government's affordable housing programme, Mr Mensah said a committee had been set up to reactivate the project and ensure that initial investment would not go to waste , explaining that, the Ministry had constituted a Housing Project Committee to evaluate proposals so far received from partners and recommend the most feasible for implementation.
He said the housing deficit in Ghana is 1.7 million housing units and to be able to address the deficit and accommodate new households, there was the need for annual delivery of about 150,000 units over the next 20 years.
The Government, he said, was partnering the private sector to help deliver housing units for the people considering that the provision of housing was a critical factor in tackling poverty and social stabilisation.
The Ministry in collaboration with the Ghana Housing Finance Association was developing a proposed legislation on condominium property to be passed into law to respond to the increased demand of development of high rise properties and its implications for shared ownership or common areas, he said.
On problems related to Rent sub-Sector, Mr Mensah announced that the Rent Control Department, established by Rent Act 1963, (Act220) received 13,603 complaints in 2011 and out of which 2,875 had been disposed off with 10,728 outstanding.
The establishment of that Department has contributed tremendously to reducing the social tension that existed in that sector.
GNA