In search of an ideal life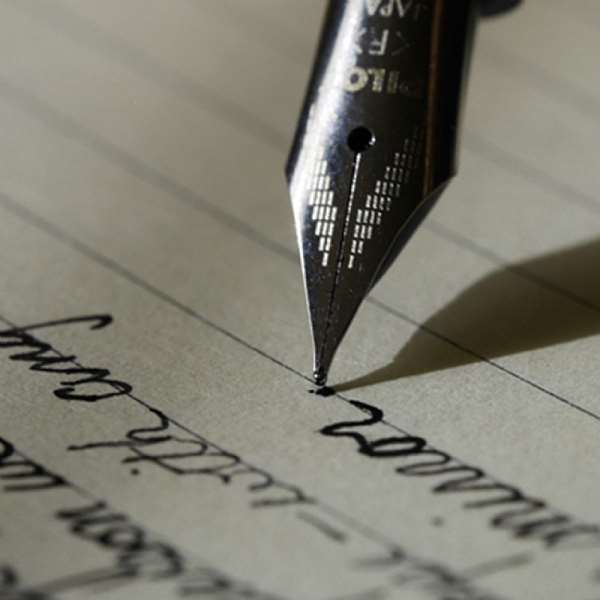 By Muhammad Ajah (Being the beginning of his book titled, "A Letter To God"
God of Mankind and All Creatures,
Indomitable Domain,
P. O. Box 24434 Paradise Layout,
Heaven.

Able God,

APPLICATION FOR LIFE, PARDON AND MERCY

Under the seemingly boundless blue and starry sky on which life depends; on the bound tortured plain surrounded by waters salty and sweet, I am before Your Door knocking hopefully, perceiving the fresh fragrance from the door always ajar for reception, hearing the voices of the blessed and gone and feeling the wholeness in a mould like mankind made merely of dust. I am an advocate of that man You made to live and die. Such short but complicated course is my worry and I feel to resist the transition of myself until I have written You this letter for indispensable trio in the existence of man. May I introduce myself as a soul seeking to serve perfectly moderate: to be heard, to work for You and humanity and to be rewarded. I have heard a lot about You, my kind and myself. I have seen so great some signs to doubt not Your Existence. You are that Supreme Being directly or indirectly invoked by those who reflect the reality of what man conceives as feeling.
But before this onerous advocacy, I deem it a responsibility to seek purification from You, for to be sure of Your Nod, I must attain the first and foremost requirement. I plead You condone and forget the crowding engagements of this dust and cleanse the soul I tussle hourly to preserve for You.
Being created not like my own creation, I admire but somehow abhor this man who has made himself mere prey to coin and devil. The devil, Lucifer, has today taken the likeness of man. Mingled, both daily grow to scare off the possibility of separation.
I ask for life without fear. This is a request I had made like others. But now I re-ask for life daily deteriorates. I am happy that I am not happy in this world because only few of Your creatures weep to rejoice. So many are sad for what appears outwardly to soothe and invigorate. The burgomasters ululate not, but make life so knotty that nearly all can hardly define life itself correctly. Yet, I must truly avow that I stage no challenge before You. You know all. But at the end of my missive, I will rejoice for having reported myself, my enemies and my friends to You.
You have made this world alone as a whole without discrimination. After Your whole work, the master You have made and put to dwell and develop it, despite he, the easiest made and part of the garnish, has turned it to partitions: first world, second world, third world, and life itself into first, middle and low class with vast gap between each two. He is the most impatient creature, a passenger who does not consider the dangers and sleeplessness of even drivers of his kind. This place is at the fullness of lawlessness and mess. The brain You fixed in man has led to far-reaching uncertainties. This has in turn made him much more obnoxious to You as he claims to have acquired the power, with technological realities and fantasies and the induced complacency therein, to do and undo.
But lest I sway off or confuse man, not You, may I take this letter by enumeration.
To accuse knowledge as the devil's weapon against man is to rebuke ignorance as an epidemic man generates against himself. Instead of truly knowing and doing, man claims to know while ignorance is his own master. I know that the more one knows, the more ignorant he should feel. That is why a scholar remains so as long as he continues to discover and learn the secrets of this life, for when he proclaims to be learned, he has proclaimed ignorance. The world has become ignorant since life itself to man seems to have become inexplicable or lost. The worst crime is either to know and ignore or not to know with no palpable effort to learn. According to many of man, the worst crime I have ever committed are, You know assured, that I abhor irritant grass and the waters that affect the brain, deep covetousness and largely greater parts of the deadly evils in its seven or more ramifications, the experiences one of which has lured me into this art. I feel I do not know. But I am always pushed to scratch on leaves to create what may be admired by some of Your creatures. Another heavy crime, rather the heaviest which I assure I have never attempted to come to is conceiving a likeness to You. You are Something like nothing. To know, You have recommended. But to ignore, sometimes, soothes life and humanity.
If the inexplicable but inevitable transition visits me in this retribution, I will be gay so long You are pleased with me. Retribution in this world does not annihilate Your boundless mercy hereafter. I regard it retributive to do work for while some know less and work more to rescue man, others learn more to destroy the already endangered course of man. Again it is retributive because not to know, sometimes, frees while when that knowledge comes, the onerous task unveils itself in putting 'a' not in place of 'b'. And this makes me feel why the hours are only twenty-four and why there are only five compulsory calls to You for if it were to have been fifty within the twenty four hours, inhumanity may have lessened as the search, not only to get but to dominate and oppress would have been mitigated. There would have been manna to assuage our hunger and springs from under our feet to assuage our thirst. But Thou know what Thou do and why.
Lord, knowledge, man believes, is power. But powers without knowledge abound. The nine letter abstraction is the cause of man's fall. Let me not misquote Your words. Bail me for any shortcoming for You give one instead of two rewards for an unintended fault.
It is because of my indebtedness to You, man and myself that I seek this expensive life. And in requesting, I am confronted by the question, why do I seek life, nothing more or less than life?
Before any retort, I must affirm that all what the brains of man contain, as like mine, is a drop from the sea in a comparison between the knowledge of man and Yours. And mine, out of the drops, is one out of a billion or I have even less. Yet I thank and sanctify You with that awareness that what fault finds itself in my endeavour is purely human.
Owed You is my adoration wherever I am and my return whenever I reach the time as ordained. I can pay nothing to equal all what I have been gifted by You. To live is a privilege not a right for if not, what would be said of those whose seconds are few, or those who never taste it at all as they are recalled just after the seeds of reproduction meet. Nevertheless, all the inscriptions on the Tablets of Divinity (I mean that which You have ordained) are bound to manifest and nothing or only little can all man's toiling change. Therefore, I am reposed to believe that many are given joy, but they, out of ignorance and too much love of life chose the other abstraction. The joy sticks to true fidelity in You; the fidelity that enriches and which no man attempts to ignore without being encircled by perpetual failure.
Men are animals with senses. You have made the demarcation of this abstraction so divine that through it, affinity flourishes between You and man and upon it, obligation centers on man. The man in me is to look at man as a unique creature among Your works. The debt on man is to serve You and humanity. And my contribution, as required from every man good and wise, is to uplift the dull characters of man with these mere prints so hard to imagine and compose even if only on papers, into the real concept of man's worthiness to exist, to react and affect. As severally acknowledged, man being a social being, a hermit must, even if not often, need to eat, drink, maybe ask questions and enter matrimony. Hence do I hold an introvert a semi-human who should either stay out of the sight of man or continue to deceive his world. If the best a man can afford man is to relieve him of a burden more especially when not asked, even by words, the pride and ostentation of the able amongst man would not reflect perversely on humanity as a whole.
Man, again, is made of double elements. Paying attention to one component and neglecting the other is disastrous. The soul can work effectively when the flesh is healthy. But to give everything to the soul and to neglect the flesh will lead to a tribulation which You inflict for disobedience. So the duty to myself is to guide and guard myself for You, man and Your creatures.
May I now say I seek life to accomplish what You have willed to execute through me. I am sure I do not want life for myself. I cannot live where no man lives. I cannot live where I cannot find You. Life is so sweet when, to find You, I look to the trees especially as they sing from the touches of the breeze and cry from the forces of winds and tornadoes; to the waters when they fall from the mountains as cataracts or from the sky and flow into the valleys to sustain life and give beauty to Nature; to the carpet and lights above; to the lions in the jungle, not in zoos; to the birds in the air and in their nests, not cages; to all that man can see in existence and finally to man himself, the reflection of a part of the breath of Yours. These make me live the life I seek.
Since the creation of man, Lord, there exist only three sets of people. People crawl, then they stand, then they bend. I have never seen any woman produce an old person, though it is said that the child is the father of man. None has attended youthhood without cradle. Unless You allow the Jinn to disguise and confuse man, that has been the tradition. You endorsed that no step shall precede the other. Out of the three stages or acts as in drama, the middle is the climax of Your temptations. So dangerous it is that when it cracks like the bridge, both the back and the front are lost. Thus a good sense of despondency in Your gift afterward comes to pester though some men may feign it will be there. Apart from our father who You made from no human, the rest are either of him or his wife or both. You have wonderfully built this father with such perfection that the admiration to Your wonders exhibited in him calls for observations which You fully know.
Lord, I feel not to cut this Lord-servant discussion in form of a letter because I derive pleasure in it and in You. Have You not given man only two eyes? What for? Is it to work into the woman's property that is precipitating the cripple of man nowadays? It is a danger man ignores to fear. And that unity is so much undefinable that hardly a living man can explain how and why it occurs. For when overcome; when sanity is realized and when pieces of cloth are searched for to cover the shame, it is still to me a mystery. While some feign not to connect their eyes with mind, I feel the mind is the origin of man's penchant and the eyes the agent of photocopy. What the eyes detest, the mind detests. But what the mind intends, the eyes would be gradually coaxed to accept.
Muhammad Ajah is a writer, author, advocate of humanity and good governance based in Abuja. E-mail [email protected]