Rawlings mourns famous 'yor k3 gari' seller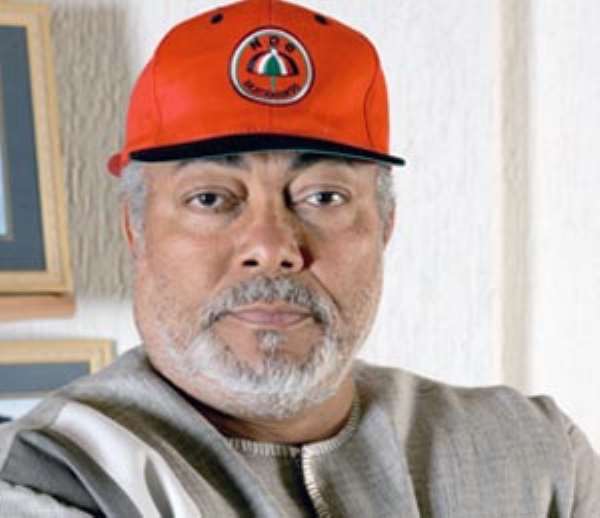 Jerry John Rawlings
For almost three decades and a half, there has been widespread rumour around town that former President Jerry John Rawlings used to buy 'yor k3 gari' (gari and boiled beans) on credit from a popular beans seller who plied her trade near the Osu Castle, the seat of government, when he was in the Ghana Armed Forces.
Over the weekend, the rumour was put to rest when the former President showed up at the St. Peter's Catholic Church at Osu in Accra for the burial service of Mrs Veronica Egbo Afanu Amegashie, 88, aka Afua Maami.
The burial service preceded her interment at the Osu Cemetery in Accra.
Former President Rawlings paid glowing tribute to the woman for the invaluable service she had rendered to him and other young military officers in the past.
According to him, although the world was made to believe that he (Rawlings) went to the favourite beans joint alone, when in truth he often went there with other officers.
He said Mrs. Amegashie was very kindhearted and serviceable to the young officers as well as people around her.
Former President Rawlings recounted the magnanimity of Mrs. Amegashie who, in 1978, sent some gari and beans to some amateur boxers preparing for an international bout at the Accra Sports Stadium when it became evident that the food available for the boxers was not enough to suffice them.
He described the departed gari and beans seller as a 'truthful and sincere person who believed in serving God by caring for others and being ready to share with others in need.'
He urged Ghanaians to let the truth be their guiding principle in all that they did.
Former President Rawlings said Mrs Amegashie saw God in the people around her and served them diligently.
The Parish Priest of the church, Rev. Fr. Dominic Amegashiti, described the deceased as a source of inspiration and encouragement to many people, including himself.
He said even in her old age, Mrs Amegashie often sent cooked beans to support the parish during its activities.
Former President Rawlings in the heat of the June 4, 1979 uprising, told Ghanaians about the challenges people faced in life while the leadership of the Supreme Military Council II, under Lt. Gen. Fred W.K. Akuffo, lived in affluence.
He had, on many occasions in the past, told Ghanaians of the hard times that confronted the country under the corrupt leadership, noting that in those times even in his position as a Flight Lieutenant in the Air Force, life was so difficult he had to credit gari and beans for survival.
That and other pronouncements endeared him to the people who went to christen him 'Junior Jesus'.
Source: Daily Graphic