Kenya trials must run in parallel: ICC prosecutor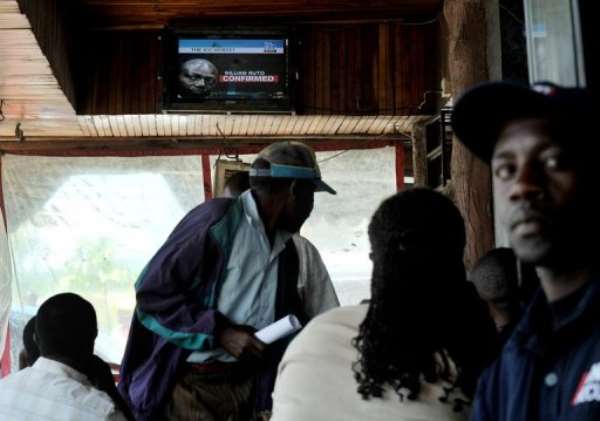 Kenyans watch the news on television in January announcing the trials. By Tony Karumba (AFP/File)
THE HAGUE (AFP) - The trials of two potential presidential candidates in Kenyan elections must run at the same time to avoid the appearance of favoritism, the International Criminal Court's chief prosecutor said Tuesday.
"The two cases should run in parallel, at the same time," prosecutor Luis Moreno-Ocampo told a news conference in The Hague, where defence lawyers appeared for a preliminary hearing.
Kenya's Deputy President Uhuru Kenyatta, 50, and former agriculture minister William Ruto, 45, are among four defendants in twin trials accused of orchestrating post-election unrest in 2007-08 which killed at least 1,100 people.
Both are potential candidates in presidential elections set for March 4 next year, and prosecutors have voiced concerns over potential unrest should one of the accused be seen as being favoured over the other.
However, they did not object when the defence on Monday proposed a March 2013 trial date.
Presiding Judge Kuniko Ozaki said the court would rule on a date before the start of its summer recess on July 14.
Moreno-Ocampo said the trial date should not have a bearing on the election.
It is "not for the International Criminal Court to define who will run in the elections in Kenya," he said, adding: "Kenya's elections are up to the Kenyans. It is time for Kenyan leadership."
Kenyatta, son of the country's founding father, faces charges along with former civil servant Francis Muthaura, 65, of orchestrating murder, rape, forcible transfer and persecution in the aftermath of the December 2007 elections.
In the other trial, Ruto and radio station operator Joshua arap Sang, 36, face three counts of murder, forcible transfer and persecution for allegedly orchestrating attacks on then ruling party supporters.
Kenyatta has been accused of ties with a shadowy criminal gang called the Mungiki -- a sect-like body known for skinning and beheading its victims -- which he allegedly directed to attack opposition supporters.
Both Ruto and Kenyatta have proclaimed their innocence, but they have vowed to cooperate with the court.
Violence shattered Kenya's image as a beacon of stability in east Africa when then opposition chief Raila Odinga accused President Mwai Kibaki of rigging his way to re-election following the 2007 polls.
What began as political riots quickly turned into ethnic killings of Kenyatta's Kikuyu tribe, who in return launched reprisal attacks, plunging Kenya into its worst wave of violence since independence in 1963.