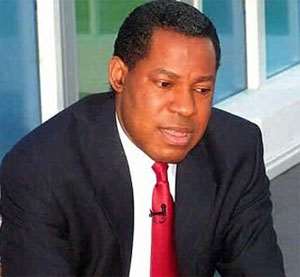 On the 3rd of June, 2012 (Sunday dawn), I woke up, logged onto ModernGhana.com and this title greeted me: "Pastor Chris Oyakhilome's Theory of Masturbation, Alcoholism and Smoking."
I thought the title was a tad complex and vague and didn't want to read it, but I did. The name "Pastor Chris "attracted me to the title. Yes; he's that much an intriguing character and a charismatic "man of God."
In the article, the writer in a professional manner jumped onto certain comments passed by Pastor Chris in relation to whether bad habits such as masturbation, alcoholism and smoking were sins or not.
Well, according to Pastor Chris and "the Bible" he, Pastor Chris uses; masturbation is not sin, alcoholism is not sin, and smoking is not sin. Awesome, isn't it?
Shaking your head? Can't believe it? Don't! Pastor Christ is right, and I'll show you why. According to "the Bible" he uses, he's right; damn right.
Pastor Chris, in the said theory, postulated an argument which went something like this: ''masturbation in itself is not a sin against God. Satan uses it in oppressing the mind and make them feel ineffective and inefficient in the sight of God. But once you understand that it's got nothing to do with God, its about you and your own body…''
Now, here I am; scratching my head, blinking my eyes and wondering what the hell was this "man of God" talking about?! MASTURBATION IN ITSELF IS NOT A SIN AGAINST GOD? Good heavens!
Now, can I tell you about my personal experience with masturbation? Here it is: while in JHS 3 years ago, I used to masturbate and always did so with the picture of particular girls in mind! And I picture them naked!
Will you, a clever thinking homo sapiens, dare open your mouth and tell me that what I was doing back in my JHS days before I repent and became a believer wasn't and isn't a sin?
If you won't dare to that, Pastor Chris dares. And he's damn right; according to "the Bible" he uses.
And that Bible isn't a KJV—King James Version—or RSV or MV; it's the PPV (Prosperity Preaching Version).
Yes. I dare to label Pastor Chris a prosperity preacher. What? Touch not the anointed of God? Hell! If calling a spade a spade and labeling sin a sin constitutes an act of "slandering a man of God" then we live in strange times indeed. Times in which prosperity preachers abound; preachers who are more popular than the Gospel message they pretend to preach.; preachers who are doctrinal clones of men like Charles Stanley (who preaches lovely messages in rapid fire English but believes in the demonic Once Saved, Always Saved doctrine) and Benny Hinn (who curses anyone who criticizes or questions his church and beliefs).
We live in strange times indeed; times in which masturbation in itself is not sin. Lovely. Biblical.
Masturbation is NOT sin, so said Pastor Chris. Sugar-coated gospel to win more souls into the church and keep them in; done and dusted, sealed and delivered into hell. Let me like Pilate wash off my hands, here.