Ruling party wins Lesotho vote but will have to share power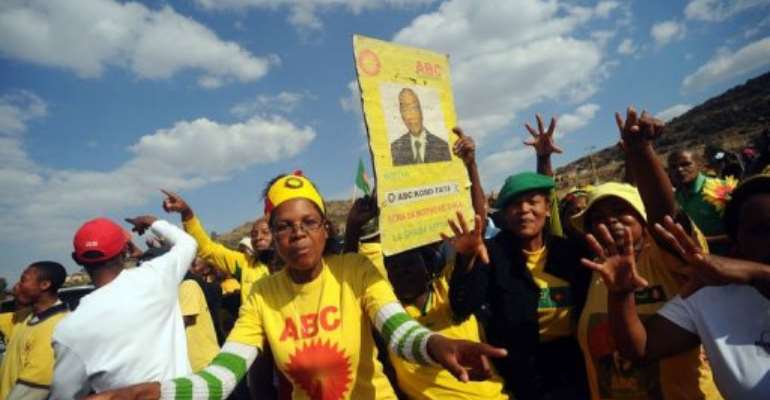 MASERU, Lesotho (AFP) - Lesotho's ruling party won the most votes in weekend parliamentary polls but fell short of the required majority to govern alone and will have to form a coalition, final results showed Tuesday.
The Democratic Congress of Prime Minister Pakalitha Mosisili took 41 of 80 directly elected constituencies in the 120-seat parliament, but now has to woo opposition parties to form a government.
The remaining 40 parliamentary seats are awarded proportionally to parties according to the number of votes they won nationally in the tiny mountain kingdom surrounded entirely by South Africa.
A party needs 61 or more seats to govern alone but the DC is unlikely to muster 20 more.
The main opposition All Basotho Convention (ABC) took 26 constituencies, while the former ruling Lesotho Congress for Democracy (LCD) took 12 and the Popular Front for Democracy managed only one.
Mosisili formed the DC in February after leaving the LCD, which brought him to power in the 1998 elections violently disputed by the opposition.
The ABC performed strongly in the cities, reflecting dissatisfaction among urban voters with the LCD and DC, but Mosisili regained his dominance through strong rural support, which made up two-thirds of his party's constituencies.
But an analyst told AFP the results showed the DC had failed in the most contested election in the constitutional monarchy in 14 years.
"This win means very little for the DC as they have basically lost," said professor Kopano Makoa of the National University of Lesotho.
A few senior government officials, including the Prime Minister and police and army heads now have to advise the Head of State King Letsie III on how a government should be formed, said Makoa.
The process should be completed within 14 days in accordance with law.
Election observers have given the elections a clean bill of health.
"It is the view of the Commonwealth observer group that this election was conducted in a credible, transparent and professional manner," said former Malawi leader Bakili Muluzi, who led the team.
Muluzi expressed the hope that the "peaceful tenor of the electoral process thus far will continue to prevail."
Saturday's vote was the most closely watched since 1998 when Mosisili came to power in polls that were endorsed by observers but that sparked a violent reaction from the opposition and triggered a South African military intervention to restore order.
Personal feuds among the three main party leaders have largely overshadowed the campaign in a country where more than half of the two-million-strong population lives in poverty.