Human waste-to-biodiesel plant to create sanitation revolution in Ghana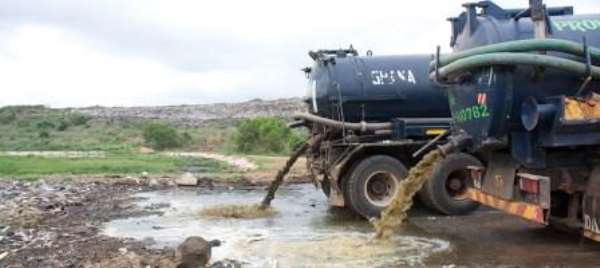 Human waste could soon be a precious commodity in Kumasi and other parts of the country with an ongoing solution to transform fecal sludge treatment into a profit-making venture.
Waste Enterprisers Limited, a sanitation and waste energy company, is replacing the outmoded concept of disposal-oriented treatment with a technology and business model for producing biodiesel.
The firm has developed innovative ways of reusing human waste with the aim of improving sanitation services for the poor whilst restructuring the economics of sanitation in the country.
The fecal sludge-to-biodiesel plant is sited at Dompoase in Kumasi.
Chief Operations Officer of Waste Enterprisers, Timothy Wade says the initiative is creating a sanitation revolution in Ghana.
"Our founding philosophy is that there is energy in waste and that waste should be treated like a resource and not thrown away. So we're piloting several different businesses in order to take waste and recycle it into a usable product", he told Luv Fm.
With millions of tons of human waste being dumped into the environment everyday, the result is significant damage to public health and the environment.
The biodiesel plants can eliminate dumping of fecal sludge into the environment while simultaneously offsetting fossil fuel consumption.
"We hope to be at full pilot scale production with the biodiesel by the end of the summer and producing biodiesel at full scale for one year and we hope then from there to have enough information to begin looking for investors and to commercialize within another 6months to a year.
"We hope that within 18-24 months, we'd actually be able to build and commercialize a full-scale plant that will be treat the equivalent of 100 truck load of waste everyday", noted Timothy.
According to him, financial incentives from the project will be used to service septic tanks and latrines in poor settlements.
The Kumasi fecal sludge-to-biodiesel plant is in partnership with Columbia University, Kwame Nkrumah University of Science and Technology (KNUST) and the Kumasi Metropolitan Assembly, with financial support from the Gates Foundation.
Waste Enterprisers recently received the SEED Initiative Award founded by the United Nations Environmental Program (UNEP) for one of its projects; the Industrial Fuel - making sludge into pellets to burn in kilns.
Story by Kofi Adu Domfeh/Luv Fm/Ghana