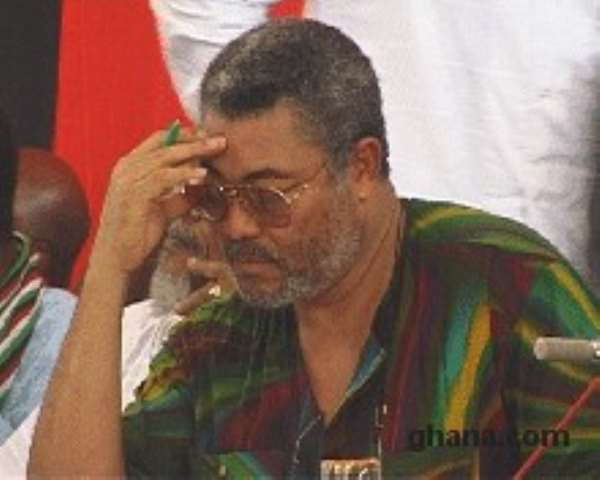 ... Attempt On His Life is Distressing Indeed .... Former president, Jerry Rawlings has expressed dismay at the reported retirement of Lt. Col. Gbevlo-Lartey who he describes as "a highly disciplined soldier who deserves a better treatment than what has been meted out to him."
He described this latter development as shocking and vicious and submitted that the rumored attempt on the life of the Lt. Col. leading to the near assassination of his brother is distressing indeed.
He told the Network Herald that the retirement is untimely and expressed doubts about the allegations of a coup plot leveled against the man he described a "hardworking, dedicated and brave officer" in the first instance. According to him, the allegations are just a diversionary tactic aimed at shifting the attention of Ghanaians from the problems that plague the country.
He noted further that there is enough indication that the alleged coup plot was a frame up which has backfired but which needs a scapegoat they have got in Lt. Col. Gbevlo-Lartey to cover up for the mess.
The very worried former president told the paper, the retirement of this hardworking, dedicated and brave officer is an indication of how unsafe and insecure the president and his institutional heads feel.
The president's office told this paper that even though Lt. Col. Gbevlo-Lartey was the Commanding Officer of the Forces Reserve Battalion, popularly known as "Commandos", which is closely linked to the former president, he (Gbevlo-Lartey) has not been in contact with Mr. Rawlings for a very long time.
The Ghana Armed Forces have, however, explained that the Lt. Col. was honourably discharged from the army even though it would not confirm whether he was discharged on the strength of the allegations made against him in relation to the "routine exercise" conducted recently in the interest of national security.
Lt. Col. Gbevlo-Lartey 50 has three more years to serve as a soldier