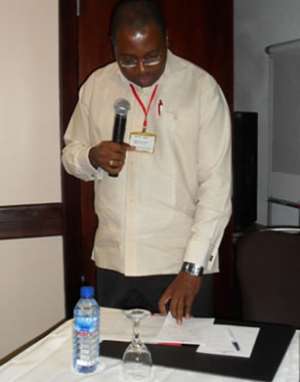 Accra, May 15, GNA - Representatives from seven countries in Africa and Asia are meeting in Ghana to assess a study data on the impact of climate variability on Migration and Mortality using the Health and Demographic Surveillance Systems (HDSS).
The five-day workshop is expected to analyse retrospective data on climate and migration collected by the International Network for the Demographic Evaluation of Populations and Their Health in Developing Countries (INDEPTH), Health and Demographic Surveillance Systems (HDSS) cites in the northern part of the country.
The participants mainly researchers and scientists are expected to analyse a study data and produce groundbreaking scientific policy-relevant papers on the impact of climate extremes and weather patterns on mortality and migration in low and middle-income countries.
Dr Osman Sankoh, Executive Director, INDEPTH Network, addressing the opening session, said the workshop was being held against the background of health challenges posed by the current world's changing climate and that key outcomes of the workshop would be published, to inform the scientific community and guide national and regional policy formulation on mortality and migration.
He explained that, it was against this backdrop that INDEPTH Network, an Accra-based research organisation, obtained an initial funding from UNESCO, Ghana for a study in selected communities in the northern parts of the country, which used evidence from HDSS to show how climate change affected mortality and migration of rural population.
Dr Sankoh said although preliminary results from the exercise illustrated a clear association between migration, weather changes and mortality, additional studies might be required in future to reach a definitive conclusion, at which point the scientific information generated during the course of the studies could be made available to policy makers and other stakeholders, to assist them in making informed decisions on issues relating to environmentally induced migration.
He said INDEPTH Network had a member of HDSS in many countries in Africa, Asia and Oceania, which collated information on the health status of some individuals over a long period and the data generated by these HDSS, offered a great opportunity to investigate and understood the movement of people, either as households or communities as a result of the consequences of climate change.
Ms Sherry Ayittey, Minister of Environment, Science and Technology, in an address read for her, stressed on the critical need to build capacity, to enable Ghana to adapt and mitigate the effect of climate change.
Advertisement
She affirmed government's commitment to assist in building capacity not only for adaptation, but for mitigating the effect of climate change.
"As a Ministry, we recognise that Ghana as a country, desirous of climate resilience in her development, lacks a concrete national policy on how climate change should be incorporated into the broad national development agenda such that the use of innovative approaches to tackling the climate challenges while optimising development is realised."
Ms Ayittey said a multi-sectoral National Climate Change Committee has therefore been constituted and tasked with an overreaching responsibility of developing a national policy on climate change, which was in its final stages of completion.
She said the Committee was to raise awareness of decision-makers on the management of climate change impacts, backed by timely and relevant information.
Ms Ayittey therefore, commended collaborative efforts of INDEPTH Network and UNSECO for the relevant information produced from the study which would help inform policy decisions on climate change.
Dr Ali Sie, General Secretary, Nouna Health Research Centre, Burkina Faso, said although INDEPTH Network had lots of data on various communities in HDSS centres, it needed other variables to confirm their analysis of these data.
GNA