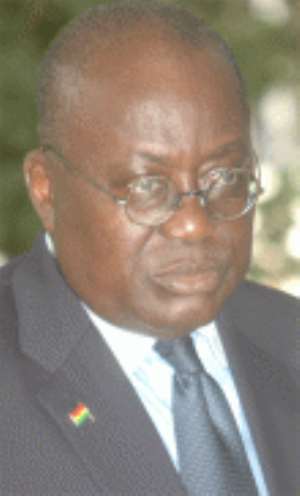 Nana Akufo Addo - NPP Flagbearer Disappointment was written on the faces of hundreds of New Patriotic Party (NPP) supporters who turned up at a rally at Bekwai last Tuesday for an advertised rally to kick-start the national campaign of the party.
This was when it came to light that the party's flag-bearer for the 2012 presidential election, Nana Addo Dankwa Akufo-Addo, would not attend the rally as earlier advertised.
It was not only Nana Akufo-Addo who did not attend. His running mate, Dr Mahamadu Bawumia, the former President, Mr J.A. Kufuor, and the party's chairman, Mr Jake Obetsebi-Lamptey, who were all billed to speak at the rally were nowhere to be found.
At about 3pm when the crowd at the rally grounds had grown thicker, rumour went round that neither the flag-bearer nor any of the other dignitaries was coming.
The NPP Ashanti regional Chairman, Mr F.F. Anto, finally announced the inability of the personalities to attend the rally at about 5pm.
"Nana Akufo-Addo has asked me to apologise to you for his inability to attend the rally. He is in Nigeria as I speak to you now," Mr
Anto said, as the supporters began to go away.
Mr Anto, however, commended the supporters for turning up massively at the rally promising that the flag-bearer would surely find time to visit Bekwai.
He said it was important for the NPP to work hard to unseat the NDC in the December elections.
That, he noted, would ensure that Ghana achieved the expected development under a better government.
Mr Anto urged the party supporters who were yet to register in the biometric voters' registration exercise to do so since time was running out.
The independent Member of Parliament (MP) for Bekwai, Mr Joe Osei-Owusu, reminded the party members that unity was crucial in building a winsome NPP.
He said in 2008 confusion rocked the Bekwai constituency of the NPP, a situation that led to the reduction in votes for Nana Akufo-Addo.
The MP stated that now that the NPP was gunning for victory in December, it was important for all to unite in pursuit of that dream.