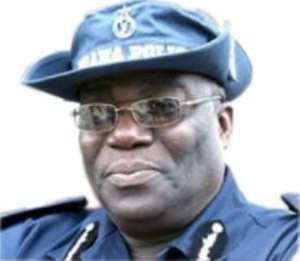 Inspector General of Police - Paul Tawiah Quaye The Director of Communications for the Convention People's Party (CPP), Nii Armah Akomfrah, has charged the Inspector General of Police, Paul Tawiah Quaye, to go beyond the rhetorics and back his words with action.
In his view, the police must also be proactive to avert any pandemonium in the run up to the December general election.
The IGP in a meeting with the Interior Minister, William Kwasi Aboah, where the latter was briefed on the state of Ghana's security in the run up to elections in December at the Police Headquarters on Wednesday, served a notice to deal ruthlessly with rabble-rousers who would threaten the security of the state.
He gave assurance that the Police Service would not condone any act of violence but would remain neutral in the discharge of its duties to ensure that Ghana remained peaceful throughout the election.
According to Akomfrah, recent violence that had rocked the ongoing biometric voters registration exercise had cast a slur on the integrity and professionalism of the Police Service; therefore the IGP must act swiftly to win back the confidence of Ghanaians ahead of the December polls.
Speaking in Accra on Wednesday, Nii Armah Akomfrah said the IGP's comment was long over due.
He noted that the ability of the police to maintain law and order in the volatile political atmosphere in the country had been called into question considering reports of 'unprofessional' conduct by some police officers under his [IGP's] watch.
The CPP's director of communications indicated that the Police Service had a constitutional duty to maintain law and order thus the country needed to be re-assured of their [police] neutrality to prevent aggrieved citizens from using unorthodox means to obtain justice.
"Occasionally, we need to see the head of our Police Service in the public eye telling us that he is in control and willing to show concern to all of us."
He added: "I was encouraged that finally the Interior Minister and the IGP came together to talk about national security. It is important they signal the country that those responsible for the security in this country are taking their [Ghanaians] concerns seriously".
Meanwhile, the National Organiser of the People's National Convention (PNC), Emmanuel Wilson, who was a co-panellist, commended the police administration for re-assuring Ghanaians of adequate security in the ongoing voters registration exercise.
He called on all political parties to collaborate with the police to ensure peace before, during and after the December elections.