Focus on the achievements of women too - Naadu Mills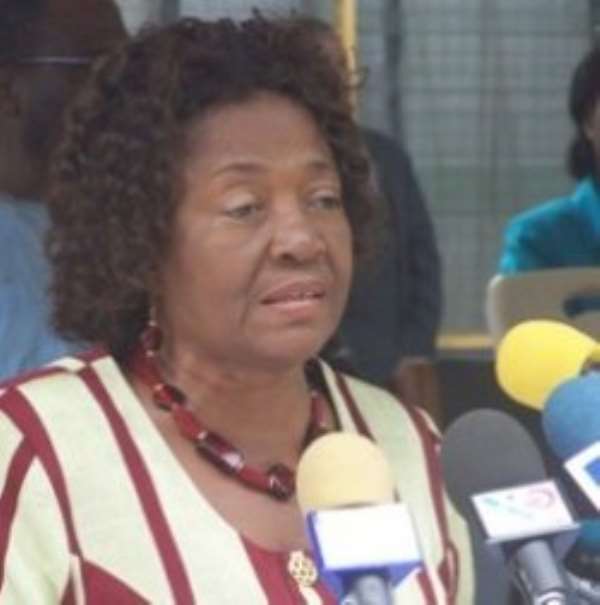 Accra, April 24, GNA - Dr Mrs Ernestina Naadu Mills on Tuesday appealed to the media to enhance their coverage on the achievements of women in all areas and sectors of accomplishment.
She said this would facilitate and attract the visibility of more role models for the younger generation.
Dr Naadu Mills who was addressing the opening session of a two-day Leadership Conference on Innovative Women in Business and the Workplace in Accra, urged the media to put the spotlight on women, who did not usually receive the attention and the publicity they deserved, especially those who excelled in so-called male-dominated areas of trade.
The conference organised by Global Women Inventors and Innovators Network in partnership with Ministry of Women and Children's Affairs (MOWAC), was used to award women of excellence in their fields of endeavours, as well as some outstanding personalities in the country.
In addition, it would provide cutting edge interactive knowledge transfer session and opportunity to learn from success stories of prominent women attending the conference from the public and private sectors.
Dr Naadu Mills said "We need to look in areas of sports, the automobile industry, airline industry, science and invention, engineering and many more areas that are traditionally male- dominated and encourage women doing remarkable things".
She therefore, called for media assistance in this regard to enhance the coverage of women and refrain from looking for only negative or the sensation in every story.
Dr Naadu Mills said "We need more pioneers to get involved to ensure that the voices of our women are represented at all levels".
She underscored the important role that women played and had played in the advancement of mankind.
The First Lady stressed the need to continue to develop the essential qualities that would assist women in developing strategies, trends and tactics that would enable them take on effective leadership positions.
She said despite the celebration of the achievement of women of leadership qualities, there still remained many more women who were still living in abject poverty and many that were constantly abused in Ghana, Africa and the rest of the world.
Dr Naaadu Mills stated that it was unfortunate that the legacy of oppression still weighed heavily on women, and for many, it was directly from within their own homes, where patriarchal and sometimes antiquated rules were upheld.
She said there were still a high percentage of women in the country and Africa, who faced real hardship and yet, had helped shape the history of the country and Africa at large.
"The freedom we have fought for over the years for women is still under threat due to serious violent crimes against women," she said.
She saluted hardworking women of Africa and the Diaspora, whose achievements were often catalogued for public admirations and which had become household names and subjects of encouragement to many women.
She affirmed Ghana's commitment to ensuring women empowerment for national development.
Mrs Juliana Azumah-Mensah, Minister of Women and Children's Affairs, said the Ministry intended to sustain the programme as a channel to reward hardworking women, especially the unsung ones in the society.
She explained that the conference would help women understand what leadership was about and develop the essential skills and qualities of effective leadership.
Other objectives of the conference were to support and encourage women across Ghana and beyond to embrace innovation as a key economic driver, assist in increasing the capacity building and serve as a vehicle to sustain growth, push forward competitiveness and encourage new ideas to be turned into commercial success which would ultimately be of benefit to the country and the international community.
GNA