Asantehene Destools Nana Owusu Achiaw As Juasohene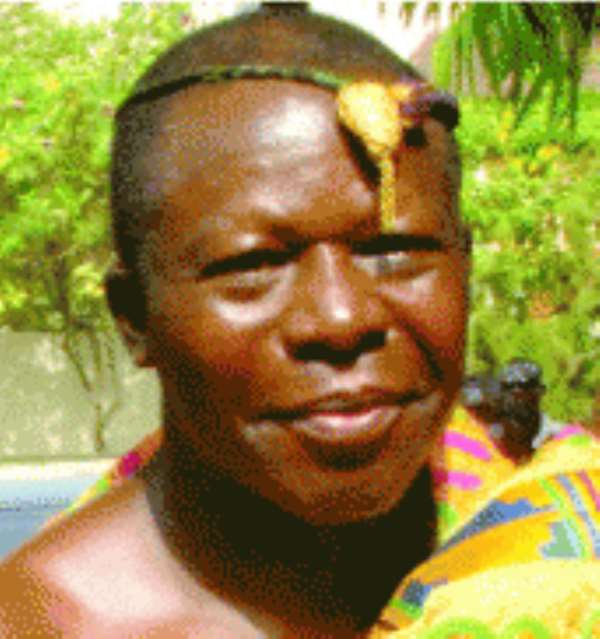 Otumfuo Osei Tutu II - Asantehene
The Asantehene Otumfuo Osei Tutu II, has destooled Nana Owusu Achiaw Prempeh as Juasohene, ending 18 years of a bitter chieftaincy dispute in the area that led to loss of lives and destruction of properties.
The decision affirmed the one taken by his predecessor, the late Otumfuo Opoku Ware II on February 17, 1994 declaring Nana Prempeh destooled and asking him not to dare step foot at Manhyia as a chief.
Otumfuo Osei Tutu however did not rule on the purported installation of Nana Gyeabour Safrotwie Sarpong as the new Juasohen, deferring the decision to April 19.
He asked him not to step foot at Juaso until the determination of his status. This is to prevent any disturbances.
At a packed Asanteman Council meeting at the Manhyia Palace in Kumasi today, the Asantehene who is the life President of the council said he could not overturn a decision made by his predecessor to destool Nana Prempeh.
"If I do that the spirits of Opoku Ware will not forgive me," he stressed adding that it was not for nothing that the chief was destooled.
Tracing the history of the dispute, the Asantehene said a case against Nana Prempeh was brought before Otumfuo Opoku Ware by some kingmakers of Juaso following which the chief was invited to Manhyia for adjudication to answer the charges brought against him.
Nana Prempeh failed to answer the late Opoku Ware's invitation and in one instance wrote to the Otumfuo Opoku Ware demanding clear explanation as to why he should be invited.
As result of the act of insurbodination, Otumfuo Opoku Ware declared him destooled asking the Juabenhene, Nana Otuo Siriboe II, who is the direct overlord of the Juasohene, never to lead him to the Manhyia palace again as a chief.
That notwithstanding, Nana Prempeh continued to carry himself as Juasohene daring anyone with the power to get him out of the palace.
Meanwhile, the Juabenhene also went ahead to accept the selection of Nana Gyeabour Safrotwie Sarpong as the new Juasohene, a development Otumfuo Osei Tutu Ii would rule on April 19.
All the chiefs who spoke on the matter before the Asantehene's final ruling took a swipe at Nana Prempeh for blatantly disobeying the orders of Otumfuo Opoku Ware and therefore appealed on Otumfuo Osei Tutu not to entertain him as the chief of Juaso.
Responding Otumfuo Osei Tutu said the Golden stool on which he sat was supreme in Asanteman. Therefore, any chief who disrespected the stool would be destooled.
He said he wanted peace to prevail at Juaso and that his decision could not be challenged in any way.
He asked Nana Prempeh to hand over the black stools and other stool property in his possession to the kingmakers and report to him on April 19.