Kofi Adams unperturbed by NDC suspension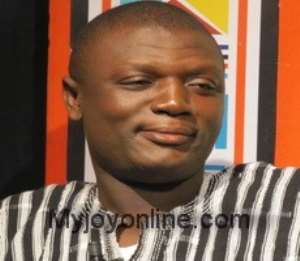 The suspended deputy General Secretary of the National Democratic Congress (NDC), Kofi Adams says he is not perturbed over his suspension by the National Executive Committee of the party.
According to him, no one has informed him that he has been suspended in any way; "not even a text message has been sent to me," he stressed.
Mr. Adams who has been suspended for three months over an alleged secret recording of a telephone conversation between him and New Patriotic Party's Gabby Asare Otchere-Darko, told Peace FM NDC executives were doing this to him because he appeared on Joy FM's news analysis programme Newsfile, arguing that the National Chairman had been on PM: Express on Multi TV, another of the Multimedia outlets.
The Special Aide to ex President Jerry John Rawlings said some senior NDC members are still appearing on Multimedia platforms in spite of a call to boycott them, which means there is even division among the party functionaries on the decision to boycott Multimedia platforms.
He minced no words in saying that government erred in coming out with a decision to boycott Multimedia.
Mr. Adams has therefore challenged the media to aggressively champion for the early passage of the Right to Information Bill since no one can say they will not give information to a certain media house when there is such a law.
The suspended deputy General Secretary affirmed that he will respond to Multimedia and appear on their programmes and champion the concerns of the Rawlingses anytime he is called. He said he is scheduled to even appearing on News File on Saturday.
"I have additional responsibility as a Spokesperson for President Rawlings and his family"; you see when Multimedia called me, I asked in what capacity am I appearing on their programme and they wrote to the office of the ex president, so I will be going in that capacity".
Touching on the tape recording, he challenged that "they should go for tapes of conversations I have had with some of my own party members about the Congress too".
"We held a press conference to outline our concerns about what happened during the Sunyani Congress including vote-buying among other things, and no one has provided evidence contrary to that," he added.
Mr. Adams said the alleged conversion between him and Gabby Otchere-Darko was a tapped and doctored information twisted to suit whatever his detractors wanted to do.
"I did not know I was that powerful in the ruling National Democratic Congress, it is part of the grand scheme," he asserted. "They should go for tapes of conversations I had with some of my own party members too," he urged.
He added that Rawlings is aware of the latest development in the party but declined to elaborate on what he and Mr. Rawlings discussed about his suspension.
When asked about what he said during yesterday's NEC meeting, Mr. Kofi Adams stated that, he only told them to get to the bottom of the matter, after which the Chairman, Dr. Kwabena Adjei asked him to excuse them, explaining that they would get back to him. According to Kofi Adams no one has since called, written or even texted him on phone.

Story by Ghana | Yaa Asantewaa/Adomonline.com