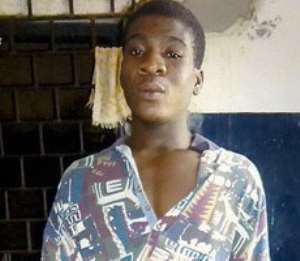 An unemployed young man, Kwame Able, has been handed a 20-year jail term by the Aflao Circuit Court presided over by Judge Obiri, for stealing 202,000CFA, a Nokia and Samsung mobile phones from one Mensah Fiakuna.
The money was supposed to be given to a fetish priest at Fihokope, a suburb of Aflao.
Narrating the incident to the court presided, the prosecutor said the complainant, Mensah, was a student living in Lome, Togo while the accused, Kwame, was unemployed living at Huime-Agordome in Aflao.
On January 22, this year, at about 12:30pm, Mensah was sent by his mother to deliver a message and give the said amount to a fetish priest at Fihokope.
On his way, he saw Kwame and his accomplice, now at large, under a coconut tree drinking coconut.
The accused and his accomplice invited the complainant to join them but he refused.
The two then chased the complainant who had taken to his heels until they caught up with him at Fihokotame. They dragged him into a nearby bush where they robbed him of the 202,000CFA, and the Nokia and Samsung mobile phones valued at 12000CFA and 6000CFA respectively as they threatened him with a cutlass and a knife.
The two robbers bolted but the complainant shouted for help and pursued them.
Some inhabitants who heard his shout for help came out and chased after the robbers, but they ran into a nearby bush.
Fortunately, a witness who identified the accused led the complainant to the house of the accused and reported the incident to the parents.
On January 23, at about 5am, the witness, in the company of some citizens from Huime Agordome, led them to the abode of the accused and he was arrested.
Upon a search on him, the two mobile phones were found. He was then handed over to the police with the exhibits.
He accompanied the police to the scene of the robbery and his house where he handed over the cutlass he used for the robbery to the police.
After police investigations, he was charged with the offence and arraigned.