Abused girls snatched from street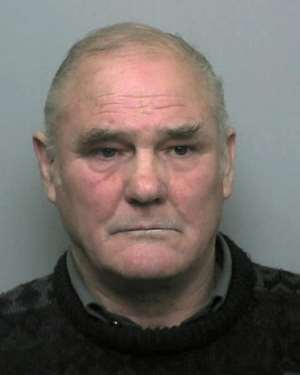 David Bryant has admitted snatching girls from the streets and sexually abusing them in the 1980s and 1990s (PA/Northumbria Police) - AP
A paedophile snatched four little girls from the street in the 1980s and 1990s, sexually abused them and then dumped them, a court has heard.
Balding grandfather David Bryant, 65, from Ulverston, Cumbria, was being sentenced at Newcastle Crown Court for four terrifying, separate attacks on victims in Hampshire and Tyneside.
He admitted four counts of kidnap and four counts of sexual assault after cold-case detectives made a DNA link to catch him, 30 years after he first struck.
Mark Giuliani, prosecuting, said: "A familiar feature of this offending is how the defendant targeted young girls out playing near their homes. Perhaps it is a sad reflection on society in the 21st century that such behaviour is greatly curtailed.
"Children have been effectively robbed of part of their childhood."
The court heard Bryant lived in Saudi Arabia between committing the offences in the South and those in the North East.
He had been convicted of three sex offences against women between 1975 and 1984, Mr Giuliani said.
His offending against children was becoming more serious, culminating in the last abduction which lasted 17 hours and sparked a major police response.
Mr Giuliani said Hampshire Police detectives began a cold-case review of the sex attacks and through DNA advances, tracked down the predator, having eliminated three of his male relatives from their inquiries.
The Hampshire offences had already been linked to Tyneside abductions. The court was expected to hear mitigation later on Friday.