7,000 DIRECT JOBS CREATED THROUGH COTTON-Hannah Tetteh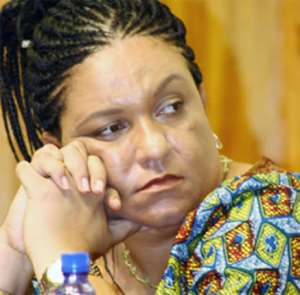 Hannah Tetteh
The Minister of Trade and Industry, Madam Hanna Tetteh has indicated that partnership between industry players is very crucial in the socio economic development of the country.
The Minister of Trade and Industry urged companies to strive hard in working into partnership adding "that will help to create progress in the local industries".
The Trade and Industry Minister, Madam Hanna Tetteh was speaking at a press conference in Accra last Friday on Tolling for the supply of Raw Cotton by Texstyles Ghana Limited and production of same by Volta Star Textiles Limited.
The Minister pledged her outfit's support to the local industries and assured that the ministry would protect the interest of companies to create more jobs.
With this, she indicated that the Ministry had embarked on supporting programmes in the cotton production in 2010 and evidence shows progress has been made so far.
Madam Hanna Tetteh was certain that the importation of cotton into the country is one of the areas this partnership agreement would deal with.
She was very optimistic that Ghanaian industries would no longer import cotton into the country since they are produced here.
The Trade Minister reveals that cotton farming has created about 7,000 direct employments in the three Northern Regions of Ghana.
She said discussions are on-going with the Ghana Revenue Authority (GRA) to exempt GTP from VAT and NHIS which if accepted, she added would boost the availability of sale of the produce onto the Ghanaian market.
On his part, the Acting Technical Director of Volta Star Textiles Limited (VSTL) Mr. Evans Agyagbo was grateful to the Export Development and Investment Fund (EDIF) for providing the initial working capital of GH 3 million to kick start operation at VSTL.
Mr. Evans Agyagbo mentioned that as a result of the partnership agreement between Volta Star Textiles and Tex style Ghana, about 6 million yards of grey cloth would be produced in 2012 alone.
He also enumerated some benefits the partnership would bring to the company such as company's plant capacity utilization which will increase from the current 10% to 30% this year and this would create additional space in the company to engage more hands in its catchment area.
Mr. Daniel Ruegg, the Chief Executive Officer (CEO) of Wienco Ghana one of the partners could not hide his joy about the partnership agreement with Volta Star Company and said Wienco is committed to the sustainability of Ghana's agriculture which he stated was very important to his outfit.
He was very grateful to the Governments' commitment in the development of the private sector and hope that this would go a long way in the development of the country's economy.
Mr. Daniel Ruegg was confident in the government's commitment in revamping the cotton industry.
Wienco Ghana offers high quality inputs of seeds, fertilizers, insecticides on credit to farmers and has financially and technically supported over 7,000 farmers in the three Northern Regions of Ghana.