Takoradi chapter of POTAG goes on strike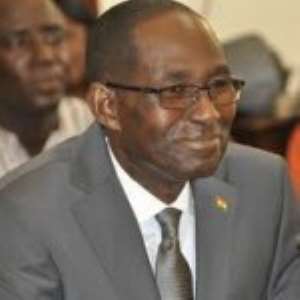 Mr. Lee Ocran, Minister of Education
THE Polytechnic Teachers Association of Ghana (POTAG), the Takoradi Polytechnic Chapter has carried out its threat to embark on strike action.
Declaring the strike action at a press conference held by the group in Takoradi on Wednesday, the Chairman, Mr. Samuel Mensah said they would not call off their strike action until their grievances were resolved.
'Tensions are heightened in the Polytechnics and members have resolved not to change their position until their grievances have been satisfactorily resolved'.
The move by the executives of the Takoradi Polytechnic chapter of POTAG to embark on the strike action follows an emergency meeting held by the group, where they unanimously resolved to embark on strike. The Takoradi Polytechnic POTAG is the first to declare the sit down strike, with other chapters expected to follow suit.
Students of the Polytechnic, who are hard hit by the strike action, were seen loitering around campus and not knowing what to do next.
POTAG had embarked on the sit down strike, following what they described as 'feet dragging attitude by the Fair Wages and Salary Commission (FWSC) to migrate them unto the Single Spine Salary Structure.'
Throwing more light on the issue Mr. Samuel Mensah pointed out that FWSC had failed for the last two years to migrate them onto the SSSS. He said the FWSC has not shown enough commitment towards bridging the income gap, in respect of the remuneration levels that existed between POTAG and other analogous institution.
These analogous institutions, according to the POTAG Chairman, have been migrated successfully onto the SSSS. He pointed out that a recent discussion aimed at determining an appropriate market value, which would have resulted in the migration of POTAG members onto the SSS had to be stalled.
This is because the FWSC had indicated at a round table meeting with executives of POTAG that they had exhausted their mandate for any further reviews of the Polytechnic teacher's market value.
'We members of POTAG view with great concern and dissatisfaction how FWSC and the Ministry of Finance have increasingly ignored the justification provided by POTAG in support of their proposal for a market premium, but rather attached undue weight to the political and financial implications involved'.
He added, 'it is instructive to say that this is a breach of the mediation agreement reached between POTAG and FWSC on December 20th, 2010'.
He continued that FWSC, since 2008, had not been able to negotiate and review its conditions of service, as a result, POTAG has been hard hit by this sordid development, which has affected the morale of its members.
This development, he observed, has compelled high caliber of teaching staff to move out of the Polytechnics to other institutions with better remuneration and working conditions.
Chairman Mensah, who was flanked by the executives of the chapter, appealed to the President to intervene, to avoid any disruption to the current academic calendar, to enable the final year students successfully complete their education.