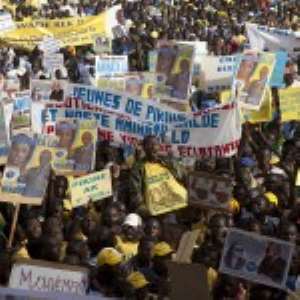 Senegalese are expected to take to the polls at the end of the week
With just days to go before presidential and legislative elections are held in Senegal, tensions in the capital are reaching a crescendo as the country slips further into a political crisis.
While it is business as usual for most in Dakar, an air of uncertainty hovers over the coastal city, the site of daily protests and demonstrations as opposition parties struggle for space to campaign for Sunday's elections.
Obasanje Olusegun, the former Nigerian president, on an observer mission to the West African country, continued to meet opposition leaders on Thursday in a bid to find a solution to their resolve that Abdoulaye Wade, the incumbent president, is not legible to run for a third term.
The Senegalese constitution prohibits incumbent presidents from serving more than two terms, but the country's highest court, the constitutional council, validated Wade's candidacy on January 27, saying that his first term did not count since it came before the two-term limit was introduced.
The court's decision has outraged many Senegalese citizens, resulting in a series of demonstrations and clashes between opposition supporters and police services. The M23 movement, an umbrella grouping of activists, opposition leaders and youth called the ruling "a constitutional coup".
The Ministry of Interior has banned rallies at Independence Square, and conducted a severe crackdown on opposition rallies in various parts of the city. It is a move that prompted Idrissa Seck, a leading opposition candidate, to describe Senegal to Al Jazeera, as a "dictatorship" http://www.youtube.com/watch?v=Pxb-fBx_bqg%20 .
Earlier in the week, protesters marched through Avenue William Ponty, close to Independence Square, singing and chanting: "He should go! He must go! He has to go!" in reference to President Wade.
Clashes between security forces and protesters have already resulted in at least six deaths, according to an official toll, though others suggest that the number has crept up to 10 deaths, since the constitutional council validated Wade's candidacy.
While the African Union delegation through the leadership of Olusegun has tried to address the crisis, analysts say it is difficult to see past the political stalemate. Aljazeera