Brong Ahafo Minister Commends Daily Graphic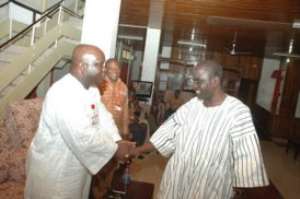 Brong Ahafo Regional Minister, Mr Nyamekye-Marfo (R) welcoming Graphic MD, Mr Ken Ashigbey (L) to his office
The Brong Ahafo Regional Minister, Mr Kwadwo Nyamekye-Marfo has commended the Daily Graphic, the flagship of the newspapers in the Graphic Communications Group Limited (GCGL) stable, for helping to uplift the image of the region through its reportage.
He said among all the newspapers, the Daily Graphic has been consistent in giving coverage to activities in the region especially at the community and district levels.
The minister said the Daily Graphic also extended its coverage to both government and non-governmental organisations saying "to the best of my knowledge the Daily Graphic 'stands tall' in the newspaper industry".
He therefore expressed the hope that the Daily Graphic and the other newspapers in the GCGL stable would continue to give adequate coverage on the region and activities of all political parties more especially in this election year to ensure a peaceful, free and fair elections in the region and the nation as a whole.
Mr Nyamekye-Marfo made the commendation when the Managing Director of the Graphic Communications Group Limited (GCGL), Mr Ken Ashigbey, paid a courtesy call on him at the residency in Sunyani.
The Brong Ahafo regional minister said the Daily Graphic had been objective in its reportage on the region.
He said that he was adjudged the best regional minister for 2011 in a poll conducted by the Africawatch magazine and attributed that success partly to the coverage extended to him and the Regional Coordinating Council (RCC) from the Daily Graphic.
"On behalf of the chiefs and people of the region I express my gratitude to the Daily Graphic and its sister publications for the coverage the region has enjoyed over the years", he said.
Mr Ashigbey on his part said the various newspapers of the GCGL would continue to open up to all political parties as it has been doing in every election year to ensure a violent-free and fair elections.
He added that the Daily Graphic, which is the flagship of the GCGL, would give equal access to all political parties in terms of coverage as well as ensure a balance and accurate stories as enjoined by the constitution.
He said the GCGL would continue to play its role in the development agenda of the country and called for support from all stakeholders.
Mr Ashigbey appealed to the regional minister to let the Regional Coordinating Council (RCC) and the various municipal and district assemblies (MDAs) subscribe to the Junior Graphic, a publication of the GCGL targeted at students at the Junior and Senior High School levels.
This, he said, would go a long way to inculcate the habit of reading in students which had witnessed a downward trend in recent times.