Jihad stops Arab Spring in Somalia says British PM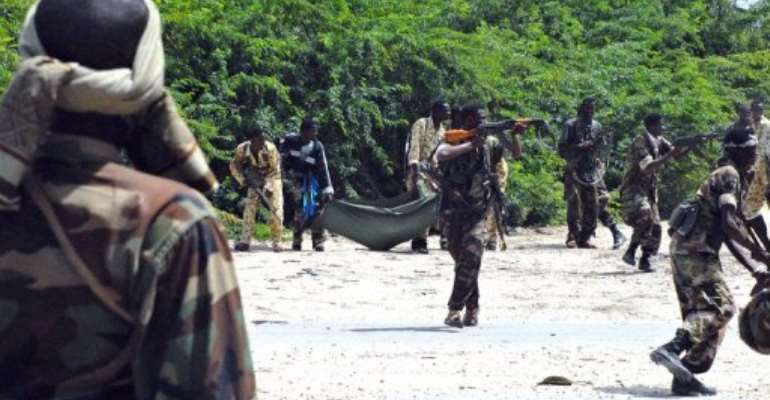 LONDON (AFP) - Somalia should be enjoying an Arab Spring of its own but its Al-Shebab insurgents are fomenting jihad both in and out of the country, British Prime Minister David Cameron said Wednesday.
Speaking on the eve of an international conference on Somalia being held in London, Cameron said the terror threat emanating from the Horn of Africa country "if we are not careful, could get worse."
World powers gather in London on Thursday for the conference, with recent glimmers of hope overshadowed by a litany of woes including Al-Qaeda-linked militants, piracy and famine.
"Al-Shebab has just taken the step of linking itself specifically with Al-Qaeda: that is a desperately backward step," Cameron told the BBC's Somali service.
"Clearly there are young people who take up arms in Somalia. We need to say to those people, 'don't do that, give up that path.' You are joining an organisation that is now an international terrorist organisation.
"Instead, let us give this country and its young people the hope of a job and a voice.
"We could see it all across north Africa, the prospects of an Arab Spring, where people actually start to have more of a say in their country and how it's run, and that should be the case in Somalia as well as in the Arab world."
A British fighter with Al-Shebab was killed last month during a drone attack in the capital Mogadishu. The Royal United Services Institute think-tank estimates that around 50 Britons are among their ranks.
Speaking of the danger posed by Al-Shebab, Cameron said: "The security threat is real; it is substantial."
Al-Shebab "encourages violent jihad not just in Somalia but also outside Somalia.
"And there is a very real danger of young British Somalis having their minds poisoned by this organisation. So there is a terrorist threat that is current today, and if we are not careful, could get worse."
Meanwhile Oxfam, the British-based aid and development agency, called on the conference participants to meet immediate needs rather than focusing on anti-terror concerns.
In its report entitled "A Shift in Focus -- Putting the Interests of Somali People First," the non-governmental organisation said state-building and military interventions had been exacerbating the country's humanitarian crisis.
"It is time for a new vision of engagement that meets Somalis' immediate and future needs, while providing the space for a negotiated peace process that puts Somalia on the road to recovery," said Oxfam chief executive Barbara Stocking.
"Those attending the London Somalia conference must seize this opportunity and help start the process to address the causes of the conflict in Somalia and put the interests and aspirations of the Somali people centre stage."