Global Cargo Village For Kotoka Airport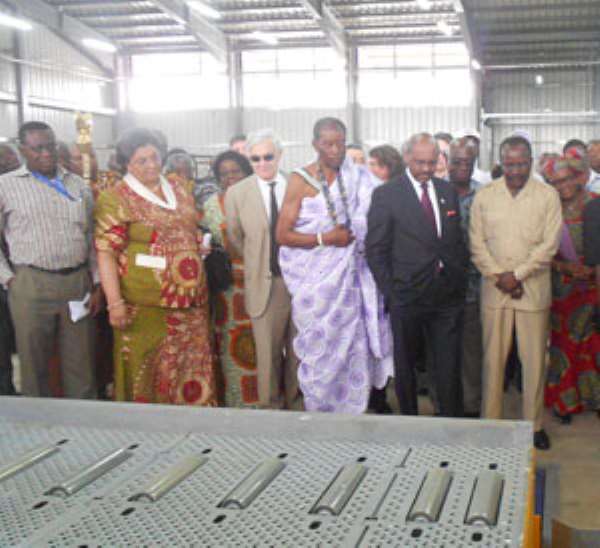 Hanna Tetteh, Kwesi Ahwoi & other dignitaires inpecting the equipments
The Managing Director of the Ghana Airport Company Limited (GACL), Doreen Owusu-Fianko says her outfit will support the provision of a world-class Global Cargo Village at the Kotoka International Airport (KIA) by developing projects which will enhance cargo operation through Private Public Partnerships (PPP).
The projects, she said, will include a trans-shipment cargo center, construction of an office block complex for freight forwarders, courier and logistics operators at the cargo village, warehousing facilities at the courier enclave and multi-storey car park, among others.
Speaking at the commissioning of the Perishable Cargo Center (PCC) at the Kotoka International Airport (KIA) in Accra, Mrs. Owusu-Fianko said Ghana's Aviation industry stands as one of the fastest growing and perhaps the most competitive in the West African sub-region.
In view of that, she said the GACL will be constructing PCCs throughout the country as part of the integrated development of airport cities.
'With the establishment of the PCC, perishable food produce can be transported by air to any part of the country and outside the country in a very fresh state,' she added.
Explaining further, she said there was a decline in cargo profits especially for perishable cargo in the late 1990s. This, she said, was attributed to the poor handling of perishable cargo and subsequent rejection of produce.
Mrs. Owusu-Fianko said 'Fortunately, we have started experiencing some growth. In 2011, for instance, we saw an increase of 19.3 per cent in cargo operations at KIA, a freight throughput of about 50 million kilos.'
She said the construction of the PCC at the Kotoka International Airport by the Millennium Challenge Corporation (MCC) under the Millennium Challenge Account (MCA) Ghana programme was timely since it will help to boost the Airport's freight throughput for perishables.
Mrs. Owusu-Fianko said the provision of the facility will also position Ghana to attract both local and foreign investment in the export business, specifically for agricultural and horticultural products.
She expressed GACL's appreciation to the Millennium Development Authority (MiDA) and the government and people of United States of America for the facility.
Mrs. Owusu-Fianko appealed to MCC and MiDA to consider 'City and Township of KIA' in the implementation of MCA Compact 2 which is expected to focus on the energy sector as the project would need about six megawatts power supply.
The PCC at the Kotoka International Airport (KIA) is part of the post-harvest interventions provided under the Ghana Compact.
The 1,200 metre square facility will provide handling and temporary storage for perishable produce (fruits and vegetables) for export and it has a 200-metre square cold room.
The facility has a shaded packing area of 350 meters square and work room of 600 meter square. The throughput is expected to increase by 5 per cent minimum annually from the current 20,000 metric tonnes.
The project, which cost $2.473 million, would be managed by the Government of Ghana through GACL.
By Cephas Larbi