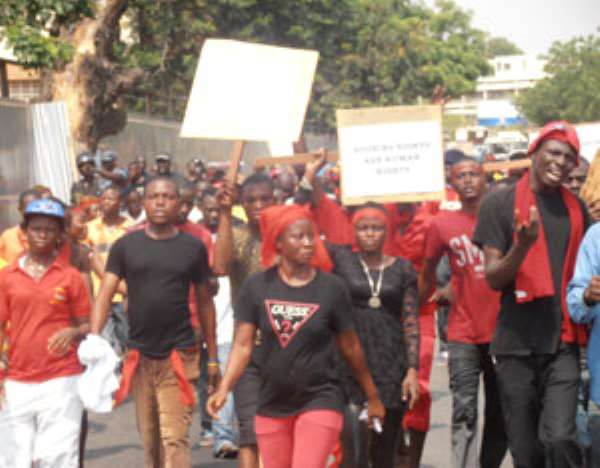 CPP members on demonstrating
The youth of the Convention People's Party (CPP), in alliance with residents at Odawna-ECOMOG, yesterday went on a demonstration, demanding that Alfred Okoe Vanderpuije, Chief Executive of the Accra Metropolitan Assembly (AMA), resign immediately.
According to the demonstrators, Mr. Vanderpuije had failed to deliver on his own promises and therefore should resign to pave way for fresh ideas, human-centered leadership and healing in a grieving metropolis.
 An effigy of the Accra mayor which had the inscription 'Vanderpuije, Will Step Down ' was later set ablaze amidst chanting of war songs and dancing.
The demonstration started at about 10:30am at the Obra Spot, Kwame Nkrumah Circle, and wound its way through Farisco, TUC, ending at the Hearts Park within an hour.
Some of the placards they bore read 'NDC, Be Merciful To The Poor,' 'Mr. President, Beware, Vanderpuije Will Wreck Your Government,' 'We Need Jobs, Not Demolition,' 'The Poor Must Survive' and 'The Violence Must Stop, Vanderpuije Must Go.'
Even though the demonstrators were not many, they were determined to press home their demand.
In a petition to the Minister of Local Government, the Deputy National Youth Organizer of CPP, Ernesto Yeboah, said Vanderpuije promised to demonstrate responsible, humane leadership and also provide effective strategies to tackle the numerous problems facing the capital when he took over as AMA Boss.
 'Today, three years down the line, using his own words as a standard of assessment, our AMA boss has failed to demonstrate responsible and humane leadership of the assembly and of the metropolis,' he said.
Mr. Yeboah stated that the AMA Boss had ruthlessly thrown thousands of women and children onto the streets, making them homeless, jobless and incapable of furthering their education, or providing for their needs.
He said Vanderpuije was an impediment to the cause of justice.
'Not one single member of his wicked, abusive, and oppressive taskforce has been investigated and punished for excessive use of public force. Today, there are hawkers maimed for life because of these thugs. Yet, not a single arrest has been made.
'Ghana has a home for refugees from war-torn countries but no home for our people in peace-loving Ghana. While Fulani herdsmen oppress our colleagues up in the Northern Region, a Ghanaian oppresses his own in the south. Our AMA boss is an Accra Fulani leader.'
He said Vanderpuije followed his predecessor in displaying lack of fresh, innovative and forward-looking ideas in managing the problems within the metropolis.
 'Over the past 20years, the policy of force, intimidation and state-sponsored violence against her citizens has done little to solve the problem of hawkers and squatters. It is no wonder the AMA boss continues to pursue this dead-end policy of beating, molesting, exploiting his own people.
 'Instead of fighting poverty, he is fighting the poor. Instead of fighting sanitation problems, he is fighting sane people. Instead of fighting exploitation, he fights the exploited. Instead of fighting corruption, he is fighting the constitution. Instead of protecting the vulnerable, he hides under bye-laws to violate his people,' he said.
Mr. Yeboah stressed that the president should sack Vanderpuije if he refused to resign.
He called for the setting up of a grievances and offences' committee to look into the plight of marginalized Ghanaians and explore ways of compensating them for their loss.
By Cephas Larbi