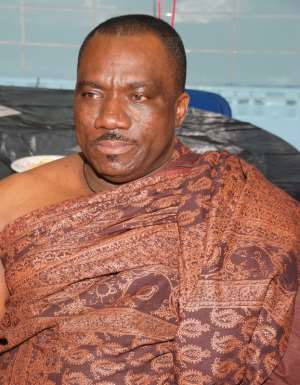 3gmediaonline.com had earlier briefly reported the sudden death of Kwaku Agyei Piesie, a Ghanaian resident in Bronx, New York which has shocked his many friends in the Ghanaian Community in New York. Thanks to his bereaved family and friends, we now have the full details of his funeral arrangements. Piesie was regarded as a nice gentleman who was always found smiling. He never hesitated to be a part of many occasions whenever invited and was one of the executive members of the Ash Town Club, New York.
The funeral arrangements of his passing has been made official which is as follows;
ASENIE, ASONA AND ADONTENG FAMILY OF KUMASI, ASH~TOWN CLUB, AKATAKYIE (OWASS ASSOCIATION), GHANAIAN HOTELIERS ASSOCIATION AND ASAFO ASSOCIATION REGRET TO ANNOUNCE THE SUDDEN DEATH OF KWAKU AGYEI PIESIE WHICH OCCURED ON SATURDAY, JANUARY 28TH, 2012 IN NEW YORK.
MOTHER: Theresa Nyantakyiwaa Akosomo WIDOW: Juliette Asante Tannor
DAUGHTER: Chelsea Ama Nyantakyiwaa Agyei
SIBBLINGS: Kwame Koduah (Kumasi), Regina Fosuhemaa Korda (Koforidua), Cynthia Fosu Boakye (Manhattan), Gladys Fosuhemaa Amponsem (Bronx), Kwaku Fosuhene (Kumasi), Nana Yaw Antwi Boasiako (Menn-Kumasi)
Vicky Anima Fosu (Bronx), Rita Boatemaa Fosu (Bronx), Barbara Achiaa Fosu (Kumasi)
FUNERAL ARRANGEMENTS ARE AS FOLLOWS:
ONE WEEK CELEBRATION/SITTING
VENUE: GHANATA HALL
2180 WEBSTER AVENUE
BRONX-NY 10457
DATE: FEBRUARY 11th, 2012
TIME: 4PM
VIEWING/LAYING IN STATE And FINAL FUNERAL RITES
VENUE: ORTIZ FUNERAL HOME
2121 WESTCHESTER AVENUE
BRONX-NY 10462
DATE: MARCH 9th, 2012
TIME: 4PM-9PM and FUNERAL FOLLOWS AT GHANATA HALL AT 10PM-5PM
FOR ANY FURTHER INFORMATION, PLEASE CONTACT ME AT 646 683 7181. Thank you!